ACTually is a game segment that tests the originality and wit of the Eat Bulaga! hosts when it comes to acting out clever uses for normal everyday objects.
The hosts are divided into two teams. After the introduction of the specific object, each team must think of and act out a new function of that object by realizing what other items it might resemble.
Not only does the word ACT in the segment's title refer to the mechanics of the segment, but the letters A, C, and T also stand for acting, creativity, and teamwork, which are necessary skills that each team must have for the game.
ACTually is a reincarnation of the special, one-time 2005 segment, I Object, Your Honor, and its 2015 revival, I Object, #NasaanAngHustisya?. Unlike its predecessors, ACTually was turned into a weekly Saturday segment.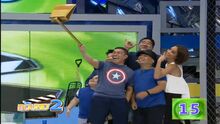 The hosts are divided into two teams: the blue team and the yellow team.
The blue team is led by Baste. Members of the blue team are Wally Bayola, Anjo Yllana, Pia Guanio, Allan K, and Jose Manalo. The yellow team of is led by Ryzza Mae Dizon. Members of the yellow team are Luane Dy, Ryan Agoncillo, Ruby Rodriguez, Paolo Ballesteros, Alden Richards, and Maine Mendoza. From time to time, the members of each team are told to switch sides in case there is not enough members for one team.
The game has a total of three rounds. In each round, both teams are given one specific object. Each group will take turns to think of and to act out a clever use for that object by realizing what other objects it might resemble. For instance, a closed umbrella roughly resembles a sword or a walking cane. The team must then act out its new function.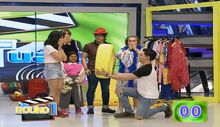 In the first and second rounds, each team must perform three scenes for each of their clever ideas. In the third round, each team must perform five scenes. Each scene has a time limit of twenty seconds. In the end of the scene, the team members must state the word "Actually" followed by the clever use of the item.
At the end of each round, the judges decide which team had the cleverest and funniest ideas. Tito Sotto and Jimmy Santos along with thirty-nine members of the audience are the judges of the game, raising a placard labeled blue or yellow. Whichever team gets the most votes wins the round.
In the first and second rounds, the winning team is awarded 20 points while the losing team is awarded 10 points. In the third round, the winning team is awarded 60 points while the losing team is awarded 30 points. Therefore, if one team loses the first two rounds, then that team still has a chance to win the game.
Below is a list of hosts who have handled the segment at some point in its run. This includes main, co-, substitute, and one-time presenters.


Baste Granfon (14 episodes)
Allan K (10 episodes)
Pia Guanio (4 episodes)
Paolo Ballesteros (3 episodes)
TMB Jon (1 episode)
Boobay (guest)

Anjo Yllana (13 episodes)
Luane Dy (6 episodes)
Ruby Rodriguez (4 episodes)
Alden Richards (2 episodes)
TMB Kenneth (1 episode)
Kakai Bautista (guest)

Jose Manalo (13 episodes)
Ryan Agoncillo (6 episodes)
Wally Bayola (4 episodes)
Sinon Loresca (2 episodes)
TMB Tommy (1 episode)
Ryza Cenon (guest)
Ryzza Mae Dizon* (14 episodes)
Alden Richards (8 episodes)
Luane Dy (7 episodes)
Allan K (3 episodes)
TMB Miggy (1 episode)
Ruffa Gutierrez (guest)

Maine Mendoza (12 episodes)
Paolo Ballesteros (8 episodes)
Ruby Rodriguez (7 episodes)
Pauleen Luna (2 episodes)
Boobsie Wonderland (guest)

Pia Guanio (9 episodes)
Wally Bayola (8 episodes)
Ryan Agoncillo (4 episodes)
TMB Kim (1 episode)
Cai Cortez (guest)
* as Boss Madam and herself
Sinon Loresca
TMB Joel
TMB Kim

MMP 2017 Julia Gonowon
TMB Jon
TMB Miggy

MMP Shiara Dizon
TMB Kenneth
TMB Tommy
Date
Round
Yellow Team
Prop / Score
Blue Team
Saturday
13 January 2018
1
electric fan
pangtakip ng ulam (food cover)
10–20
contact lens
beto-beto (carnival game)
military helmet
bilao (winnowing basket)
stethoscope
2
ultrasound transducer
bolster pillow
20–10
banana boat
saging (banana)
espasol
bamboo pole
punching bag
3
laptop
suitcase
30–60
mahjong tile
camera
sabon (soap)
cellphone
make up
libro (book)
Bossing's Savings
wheelchair
door-to-door salesman's bag
Blue Team won, 90–60
Date
Round
Blue Team
Prop / Score
Yellow Team
Saturday
20 January 2018
1
wig (referring to the lid)
kaserola (casserole)
10–20
sea lion stage
basketball basket and frisbee
gong
arinola (chamber pot)
defibrillator
2
Harry Potter's broom
mop
20–10
make up brush
barbecue brush
thermometer
penitensya (penance whip)
cotton buds
3
stamp
kabayo (ironing board)
60–30
surfboard
slide
cellphone
garden shears
stretcher
Blue Team won, 90–60
Date
Round
Blue Team
Prop / Score
Yellow Team
Saturday
27 January 2018
1
singsing (wedding ring)
salbabida (lifesaver)
10–20
earring
hula hoop
parrot circle
Lucky Juan ring
basketball ring
2
skipping rope
extension cord
10–20
dental floss
computer mouse
tug of war rope
fireman hose
sampayan (clothesline)
3
microphone
laundry basket
30–60
drum
didal (thimble)
birthday cake
banga (jar)
korona (pageant crown)
Yellow Team won, 100–50
Date
Round
Blue Team
Prop / Score
Yellow Team
Saturday
3 February 2018
1
bangs
walis tambo (tambo broom)
10–20
eyelash extension
Tahitian skirt
tennis racket
buntot ng peacock (peacock tail)
pamaypay (hand fan)
2
tennis racket
kawali (frying pan)
20–10
Captain Kawali (made up superhero)
kutsarita (teaspoon)
nawawalang bato (missing rock)
magnifying lens
kulugo (wart)
3
eye drop
lalagyan ng tubig (water gallon)
60–30
shampoo
trumpo (top)
trumpet
feeding bottle
rolling pin
Blue Team won, 90–60
Date
Round
Yellow Team
Prop / Score
Blue Team
Saturday
10 February 2018
1
helmet (acted out as a bearskin)
timba/balde (pail)
20–10
lata ng tumbang preso (can)
spirit of the glass (ouija board)
pasabog (explosive)
tuka ng manok (chicken's beak)
busal (muzzle)
2
Lucky Juan bottle
fire extinguisher
20–10
scuba diving (scuba tank)
Ghostbusters proton pack
battering ram
insecticide
oxygen tank
3
pusit (squid)
payong (umbrella)
60–30
saranggola (kite)
snorkel
golf club
flash ng camera (camera flash)
roleta (roulette)
Yellow Team won, 100–50
Date
Round
Blue Team
Prop / Score
Yellow Team
Saturday
17 February 2018
1
doughnut
gulong (tire)
10–20
engagement ring
halo
ring light
salbabida (lifesaver)
barbell weight
2
twirling baton
toilet brush
20–10
make up brush
magic wand
microphone
wiper
sagwan (oar)
3
poso (manual water pump)
pitsel (pitcher)
60–30
pangkadkad ng yelo (ice shaver)
urn
flashlight
megaphone
nebulizer
Blue Team won, 90–60
Date
Round
Blue Team
Prop / Score
Yellow Team
Saturday
24 February 2018
1
bowling ball
buko (coconut)
10–20
baseball
bawang (firecracker)
Darna's stone
ice cream
pigsa (boil)
2
siyansi (spatula)
dust pan
10–20
pang-ahit (razor)
pangkamot (back scratcher)
offertory basket
selfie stick
kambyo (stick shift)
3
tinikling poles
stepladder
30–60
saklay (crutch)
tent
tripod
riles (train tracks)
tiyani (tweezers)
rehas (prison bars)
jalousie window
swimming pool ladder
slide
Yellow Team won, 100–50
Date
Round
Yellow Team
Prop / Score
Blue Team
Saturday
3 March 2018
1
karayom (sewing needle)
pala (shovel)
20–10
kutsara (spoon)
Indian pana (bow and arrow)
fly swatter
pamalo ng palayok (hitting stick)
scooter (used with an ironing board)
2
largabista (binoculars)
skateboard
20–10
tongue depressor
bandage
palaka (frog tongue)
seesaw
jetpack
3
panghigop ng laway (saliva ejector)
vacuum cleaner
60–30
telephone
bar code reader
eggplant in an eggplant relay
cobra
gasoline pump
lobo (balloon)
lunch box and straw
speedboat motor
elepante (elephant)
Yellow Team won, 100–50
Date
Round
Blue Team
Prop / Score
Yellow Team
Saturday
10 March 2018
1
flying carpet
yoga mat
20–10
red carpet
telescope
scroll
matador's red cloth
lumpiang ubod
2
Pac-Man
floor sign
20–10
nail cutter
paru-paro (butterfly)
sipit (clothes pin)
pampatangos ng ilong (nose job)
shield ng pulis (ballistic shield)
3
race car
shopping cart
–
Chinese New Year dragon head
mouse trap
ihawan (grill)
karosa (float)
gurney
Blue Team won, 100–50
Date
Round
Blue Team
Prop / Score
Yellow Team
Saturday
17 March 2018
1
picture frame
clothes rack
10–20
limbo bar
bistay ng buhangin (sand sieve)
plantsa (clothes iron)
kabaong (coffin, used as the head part)
hurdles
2
embudo (funnel)
andador (wooden baby walker)
10–20
megaphone
busal (pet cone)
search light
trumpo (top)
lamp shade
3
telepono (rotary dial telephone)
plantsa at elesi (clothes iron and fan propeller)
30–60
manibela at walkie talkie (steering wheel and walkie talkie)
motor at elesi (outboard motor and boat propeller)
remote controlled drone
defibrillator and ceiling fan
frisbee at daga (frisbee and a rat)
Yellow Team won, 100–50
Date
Round
Yellow Team
Prop / Score
Blue Team
Saturday
24 March 2018
1
kabibe (clam shell)
duyan (hammock)
20–10
prichon (fried roasted pork)
kangaroo
barrel man
wallet
jai alai cesta
2
toilet bowl
silya (monobloc chair)
10–20
ticket booth
chariot
confessionary
machine gun
bus driver seat
3
DJ turntable at eye cover
headphones at batya (laundry tub)
–
silya elektrika (electric chair)
kawali (frying pan) at tongs
oxygen tubing
drum at pompyang (drum and cymbals)
posas at ilaw (handcuffs and interrogation light)
gong at ilaw ng camera (gong and camera light)
mouthpiece at bell
wedding (?)
seatbelt and hub cap
Blue Team won, 90–60
Date
Round
Blue Team
Prop / Score
Yellow Team
Saturday
7 April 2018
1
duyan (hammock)
grocery basket
10–20
computer mouse
ice drop
pangkadkad ng yelo (ice shaver)
2
sunny side up
sumbrero (brim hat)
10–20
UFO
frisbee
door bell
3
tapete (billiard table cloth) at cue ball
gym ball at kumot (blanket)
30–60
lollipop
E.T. at buwan (E.T. covered in cloth and the moon)
kulangot (booger) at tissue
Yellow Team won, 100–50
Date
Round
Blue Team
Prop / Score
Yellow Team
Saturday
14 April 2018
1
Pac-Man
barbecue grill
10–20
polbera (baby powder case)
stroller and umbrella (grill's lid)
telepono (telephone)
dumbell (lid attached to the base)
planggana (two laundry basins)
2
pabitin (party game with hanging prizes)
Mark Andaya at mga sipitan (clothes pins)
20–10
chandelier
cowboy at kabayo (cowboy hat and horse)
poste (light post)
ouija board at kapre (ouija board glass and a tree giant)
Lucky Juan (bottle and ring)
3
bazooka at banyo (bazooka and bathroom door)
lamesa (monobloc table)
60–30
shield at batuta (ballistic shield and policeman's baton)
arko ng Santacruzan (arc used in Santacruzan parade)
chopsticks at serving tray
Singkil (Singkil bamboo poles and umbrella)
pasukan sa MRT (MRT turnstile and train ticket)
Blue Team won, 90–60
Date
Round
Blue Team
Prop / Score
Yellow Team
Saturday
28 April 2018
1
trampoline
bonbon bed (folding bed)
10–20
wallet
seesaw
hang glider
2
King Kong
swimfins/flippers
10–20
bibe (duck)
puppet show
false eyelashes
3
mahjong (mahjong tiles) at wheelchair
trolley at softdrink cases
30–60
jenga at delivery ng gasul (trolley)
Yellow Team won, 100–50
Mathematically, winning the third round wins the game, no matter what the results are in the first two. A team can win the first two rounds and lead 40–20, but the last round gives a 30-point advantage for the winner.
Out of the 14 total episodes of ACTually, Blue and Yellow teams split the results with 7 wins a piece. However, Yellow team earned more points, 1,110–990, partly due to the AlDub influence on fans.
Individually, 5 hosts got 7 wins. Alden, Baste, Maine, Paolo and Ryzza had the most wins in the segment, but Alden did it in only 10 episodes. He also has the fewest losses among regular players with 3, and the highest winning percentage at 70%. On the other hand, Allan and Pia had the most losses with 8, and the lowest winning percentage among regulars with 38%.
Jose portrays his usual character in games of being a complainer (dubbed as "Boy Protesta") who frequently appeals to the judges and hosts because he thinks his team is always cheated by the other team. He also rallies that his team's jokes were better and original and only loses because of the big number of Maine and Alden's fans.
Aside from Baste and Ryzza who were leaders of their teams, three hosts never went to the opposing side. Anjo and Jose stayed in the Blue team for all their 13 episodes, while Maine (who admits her favorite color is yellow) is on the Yellow team in all her 12 appearances.
Entering the third round of the 27 January 2018 episode, the score was 40–20 in favor of the Yellow team. When the last round votes were revealed, Yellow team won in the slimmest of margins, 20–19, and won the game. There was no explanation why there were only 39 votes since there should be a total of 40 (39 audience members and Jimmy). If the third round result went in favor of Blue team, they could have stolen the game.
On the 3 February 2020 episode, a draw of lots was performed for choosing Baste and Ryzza's teammates on Blue and Yellow teams. Interestingly, the first four picks went to their same previous teams. Before this episode, players' teams were pre-determined. The draw of lots only lasted for two editions, and returned to pre-determined lineups.
On the 10 March 2018 episode, a blindside switch was done to even out the number of players per team (Blue has 5 and Yellow has 7). Blue team received 3 players in exchange of their own 2. As result, Ruby and Luane, who were on the Yellow team for all their 7 appearances each, both went to the Blue team for their first time. Tito Sotto jokingly commented on the Blue transferees as "patapon" (going to waste) because Yellow team (on paper) had the better side in the trade, and Jose expected it would happen.
The Dabarkads Awards 2018 ceremony was done in the middle of the 7 April 2018 episode.
The 24 February 2018 and 17 March 2018 episodes of ACTually were replayed in full on Saturday, 9 May 2020 and Thursday, 4 June 2020. Due to the COVID-19 pandemic that resulted in the suspension of all live shows, Eat Bulaga! opted to replay throwback videos of some of its most iconic segments from way back in the past.
Community content is available under
CC-BY-SA
unless otherwise noted.