"Anyo ng Pag-Ibig" is the first Holy Wednesday episode of the 2014 edition of the annual drama anthology Eat Bulaga's Lenten Special. It precedes the episode "Pangalawang Bukas" in the Wednesday lineup. The episode aired on 16 April 2014 with a total runtime of 64 minutes.
Each year, the anthology replaces the noontime show's regular programming in observance of the solemnity of Holy Week. Standalone episodes of short dramas are shown from Holy Monday to Holy Wednesday, with each episode having different characters, story, and director.
It is topbilled by Ryan Agoncillo and Pauleen Luna.
Supporting cast includes Ruby Rodriguez, Jimmy Santos, Valerie Weigmann, Krystal Reyes, and Rose Ann Boleche.
The episode is directed by Michael B. Tuviera.



Plot
Venus (Pauleen Luna) was born without hair and teeth due to a rare disorder, and had never developed any growing up. Because of her unusual condition, she often gets bullied by other children, causing her to struggle with her confidence and self-image. Despite the insults, Venus grew up with a loving family who treated her indifferently and reminded her not to let her condition get in the way of her aspirations.
Now an adult, Venus decides to migrate to Manila to find a job hoping to give her family a better life. After being rejected by several employers, Venus is welcomed by Miss Amy (Valerie Weigmann) as a nanny for her younger brother. She immediately develops a bond with the family who was unbothered by her condition. The family even rewarded her with a wig for her outstanding diligence and energy as a nanny.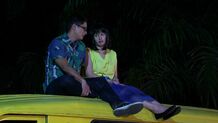 During her time in Manila, Venus tries to go on dates but is immediately shunned by men after discovering her rare condition. She eventually meets Junior (Ryan Agoncillo), a school bus driver who she becomes close friends with. Their closeness gradually turns to attraction as they get to know each other and spend more time together. However, Venus contemplates whether it was wise to tell Junior her secret. After reading a love letter from Junior confessing his love for her, Venus gains the confidence to reveal her rare condition.
Venus confronts Junior about the love letter. Ready to reciprocate her feelings for Junior, Venus confesses her secret to him by removing her wig and her dentures. Junior affirms his love for her, expressing that her lively and positive personality matters more than her appearance. Venus and Junior get married in the end.
Cast
Main cast
Ryan Agoncillo as Junior
Pauleen Luna as Venus
Supporting cast
Ruby Rodriguez as Nanay Nene
Jimmy Santos as Tatay Elmer
Valerie Weigmann as Miss Amy
Krystal Reyes as Vicky
Also starring
Lochlin Scott Odom as Drei
Collene Baldeo as young Venus
Rose Ann Boleche as Thelma
Accolades
Year
Category
Nominated Work/Artist
Result
2014
Best Story
"Anyo ng Pag-Ibig"
Nominated
Best Actress
Pauleen Luna
Nominated
Best Supporting Role
Ryan Agoncillo
Nominated
Ruby Rodriguez
Nominated
Jimmy Santos
Nominated
Trivia
"Anyo ng Pag-Ibig" was replayed in full on Friday, 3 April 2020. Due to the COVID-19 pandemic that resulted in the suspension of all live shows, Eat Bulaga! opted to replay throwback videos of some of its most iconic segments and other special presentations from way back in the past.
Full episode
The two Holy Wednesday episodes are included in the following video along with The Ryzza Mae Show episode that precedes them. The first part of the video is The Ryzza Mae Show episode featuring interviews with the Lenten Special cast members. It is followed by "Anyo ng Pag-Ibig", which begins at 42:00. The final part is "Pangalawang Bukas" starting at 1:45:33.
Community content is available under
CC-BY-SA
unless otherwise noted.