Bawal Judgmental! is a game where players are tasked with the responsibility of identifying the correct choices among a group of people with distinctive characteristics, past experiences, and emotional revelations. The segment premiered on 29 October 2019. Despite the contradiction with the segment's title, the players must meticulously examine their choices and make judgments in order to make the correct selections. The game's mechanics closely resemble those of the formerly franchised segment Boom!. Since its launch, Bawal Judgmental! has become a platform that spreads awareness and knowledge on current events, trends, and issues that are important in our society today.
Overview
Guest judges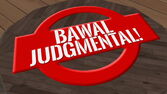 Each day, a guest judge is invited to play the game for a chance to win a cash prize. Many of the invited guest judges are well-known television performers—actors, singers, dancers, and comedians—but other notable personalities such as news reporters, politicians, YouTube stars, and sports icons have also been invited to try their luck in the segment. Occasionally, non-celebrity judges are asked to play the game depending on the topic being discussed.
Gameplay
Original iteration
The guest judge of the day is presented with seven choices, labeled A to G, assembled in a horizontal line. The hosts entrust the judge with the jackpot money of ₱50,000 which the he or she will have to protect by providing the correct choices throughout the game. The guest judge is accompanied by two friends who can help with the selections.
The seven choices are interrogated by the hosts, extracting as much relevant information from them while the judge listens carefully. They are asked to share a relevant proverb/saying (kasabihan) which could also provide a hint to the guest judge.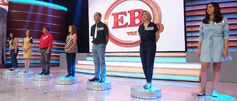 In the first few months of the segment, the seven choices were asked to show their talent. They were often accompanied by Jose Manalo, Wally Bayola, and Paolo Ballesteros (with props and sometimes costumes) who acted out scenes in a humorous way such as crying in a burial or lulling a baby to sleep, to make the choices' amateur talents more entertaining.
The game usually has three rounds, or in rare cases, two rounds. Each round has a different question about the choices' private lives, which may be as simple as their age or as big as a shocking revelation. The choices are expected to remain emotionless throughout the game in order for the guest judge not to gain any hints. The judge is also not allowed to ask any question directed to the choices. In the first round, the judge must correctly select four out of the seven possible choices. In the second round, the number of correct choices has been reduced to three out of seven. In the third round, only two out of the seven choices are correct. Occasionally, the hosts may narrow down the choices into three or four and the judge would only need to pick one or two correct answers. However, the hosts will have to deduct more amount from the jackpot prize if the judge selects an incorrect answer.
Once the guest judge is satisfied with the selections, the hosts reveal one by one if the selected individuals have the characteristics that the question is looking for. Before revealing information about the last individual, the contestant is given a chance to switch his/her choice.
If the guest judge makes no incorrect choice throughout the game, then he/she wins the whole jackpot prize of ₱50,000. Otherwise, ₱5,000 is deducted from the jackpot money each time the choice is incorrect for rounds with seven choices, while ₱10,000 is deducted for an incorrect pick out of three or four choices.
From 3 October 2020 to 22 January 2021, in the second round, the number of the correct answers is revealed from two (sometimes three) of the seven choices, otherwise the host would mention the four possible questions related to the topic, ₱10,000 would be deducted for an incorrect pick.
On 23 January 2021, the 2nd round was upgraded to introduce a new level of gameplay suspense. The 2nd round gives the judge to keep existing prize money (Keep Your Money), double it (Double Your Money), or divide it in half (Divide Your Money). The hosts will be notifying the judge what categories will allow the judge to double and divide the current money in position, with the judge's objective to select the choice that fits the Double Your Money category.


Segment changes due to the COVID-19 pandemic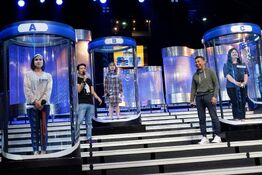 Due to the enhanced community quarantine (ECQ) caused by the coronavirus pandemic, Eat Bulaga! was forced to shut down its live broadcast for almost three months. Replays of old segments, including episodes of Bawal Judgmental!, were replayed instead.
On 8 June 2020, Eat Bulaga! returned its live broadcast after the government eased quarantine measures nationwide. During the first three days of its return, the show still re-aired Bawal Judgmental!'s previous episodes. However, the hosts teased about the return of the segment which would feature the large face shields as part of the "new normal" of Bawal Judgmental!.
New episodes of the segment began on 10 June 2020. This time, Bawal Judgmental! utilized the audience area of APT Studios by placing equidistantly spaced plexiglass body shields in which the guest choices stood, as a way to practice and ensure social distancing between them.
Instead of bringing their friends at the studio, guest celebrity judges receive help with their decisions throughout the game from a lucky home viewer that was selected from Facebook. Prior to the segment, Eat Bulaga! publishes a daily Facebook post seeking individuals with specific characteristics to join as a home partner via video call. The lucky home partner, dubbed as "chismosang kapitbahay from home", receives half of the cash prize that the guest judge wins at the end of the game. Meanwhile, non-celebrity guest judges are accompanied by a celebrity home partner instead.
On 4 to 18 August 2020, the Philippine government placed Metro Manila and the surrounding provinces (including Rizal, where APT Studios is lovared)under modified enhanced community quarantine (MECQ) amid rising COVID-19 infections. As a result of the reimplementation of the stricter quarantine measures, Eat Bulaga! halted its live studio production once again and opted to re-air old episodes of Bawal Judgemental! during the MECQ period until its resumption on 19 August 2020.
Upon resumption on 19 August 2020, slight changes have also been modified due to the wearing of face shields being mandatory four days prior. Here, when the judge picks the letter of his/her answer, the LED light will brighten up. Also, the choices went inside the "body shields" immediately.
Third iteration (Keep, Divide, or Double)
Beginning on 23 January 2021, the segment had an overhaul. In the second round, the contestant/judge can have his/her money intact ("Keep Your Money"), split it in half ("Divide Your Money"), or have it doubled ("Double Your Money"). Two of the seven choices have "Divide", while the other two have "Double".
Beginning on the 26 April 2021 episode, Bawal Judgemental! became instrumental from the virtual side, for this, the body shields in the audience gallery area were replaced by vertical LED screens for the guest choices; if the player from the studio selects the right choice from the question, those selected would remain while the remaining choices would log off.


Hosts
Below is a list of hosts who have handled the segment at some point in its run. This includes main, co-, substitute, and one-time presenters.


Studio hosts
Special live band (February–March 2020)
Barangay commentators (March 2020)[Note 3]
Special participation
| | | |
| --- | --- | --- |
| | Tali Sotto (cameo appearance) | |
Production notes
Because the COVID-19 pandemic halted live production, Eat Bulaga! opted to re-air past episodes of some of its iconic segments during the three periods of strict community quarantine in Metro Manila. As one of its most popular segments at the time before the shutdown, Bawal Judgmental! was replayed every day in order to maintain the interest of the viewers for the segment.
The suspenseful music used in the segment prior to the revelation of the answers is titled "Apprehensive At Best" by Biz Baz Studio. (YouTube link).
The victory music used after a correct choice has been revealed is a shortened version of "Who Is Ready To Jump (DJ Ortzy & Nico Hamuy Remix)" by Chuckie (found on this YouTube link). In the video, the portion of the song used in the actual segment is heard at 5:03. During February 2020, it is sometimes replaced by a sample of "Kapag Tumibok Ang Puso" by Donna Cruz, presumably due to Valentine's Day-related topics in several episodes.
Aside from the live television episodes, there were also online exclusives that were uploaded on Eat Bulaga's Facebook page and/or YouTube channel. The videos were interviews about selected choices' lives and experiences.
Footnotes
↑ Most of the time, Wally Bayola portrays the character of Chiska, the chismosang kapitbahay, who talks to the audience or the home partner. Nowadays, he portrays the character of Dasura, the foreignay chismosang kapitbahay whose name is a spoof of Social Dis-Dancing choreographer Dasuri Choi.
↑

As a result of the COVID-19 community quarantine, Vic Sotto was forced to resume his hosting duties remotely from home. Pauleen Luna-Sotto faintly appeared when the judge has correct answers as a director from their home. Luna-Sotto followed suit for hosting duties on 19 August 2020.

↑ The barangay hosts served as commentators after APT Studios temporarily closed its doors to a live studio audience due to the COVID-19 pandemic. The hosting collaboration only lasted for four days (9–12 March 2020) because Eat Bulaga! was forced to suspend its barangay segments as a result of the Philippine government's lockdown declaration of Metro Manila.
References
Episodes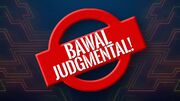 Legend:
       ✔️      
 Correct choice selected
❌
 Incorrect choice selected
 Round not played during the episode OR less questions were asked during the round
NOTE:
 Hover over 📝 in the "Note" section to see miscellaneous information about the episode,
such as the known relevance between the judge and topic or similarities with other episodes.
For the second round of the current iteration:
| | |
| --- | --- |
| KEEP |  First round cash prize is unchanged. |
| DIVIDE |  First round cash prize is halved. |
|  DOUBLE  |  First round cash prize is doubled. |
| NOTE: |  The symbol "+" denotes an additional cash prize and gift packs from the segment's sponsors. |
The following list can be used as a reference for some of the most notable moments of the segment Bawal Judgmental!. Full list of the episodes can be viewed here.
Generous actions and donations
Note: This is a list of aired moments. The show and the judges may have chosen to donate unaired.
25 December 2019: Arnel Pineda gave his ₱30,000 winnings to Tahanang Walang Hagdanan, from which the seven choices came from.
2 January 2020: Riza Faulkerson donated her ₱40,000 total to her brother Alden Richards' charity that benefits Aetas in Bamban, Tarlac.
1 February 2020: Affected by their stories, Mayor Isko Moreno divided his ₱35,000 prize money to the seven OFW choices. He also gave his talent fee to a heart center, which Eat Bulaga! doubled.
20 February 2020: After winning ₱40,000, Tessie Tomas donated half of her cash prize to the Katbalaoganon Foundation for the maintenance of libraries and learning centers in her hometown of Catbalogan, Samar.
22 February 2020: Vic Sotto revealed that Sen. Tito Sotto and Eat Bulaga! will help with the medical bills of the seven guest choices whose spouses are battling a serious illness. Additionally, guest judge Nora Aunor donated her ₱35,000 winnings to the Santuario de Espiritu Santo in Valenzuela City which helps children living in slums.
14 March 2020: Heart Evangelista donated her ₱25,000 prize to buy Vitamin C for children with thalassemia.
24 June 2020: The seven guest choices who are jeepney drivers whose livelihood was affected by the COVID-19 pandemic received financial help from the show's Kabuhayan ni Juan project.
8 September 2020: In support of their advocacies and projects, Eat Bulaga! gave donations to the seven guest choices who are workers of charitable organizations, contacts of their organizations are seen on EB's Facebook page for those who want to contribute donations.
14 September 2020: Vic Sotto revealed that two of the home viewers contacted the information of two of the guest choices of the September 12 episode of Bawal Judgemental, wherein the guest choices are mothers who are searching for their children for many years, and on September 23, Sotto revealed that Earl John, the missing child of Muriel Morena, one of the guest choices of the aforementioned episode, was finally brought home to Cavite to reunite with his mother and the whole family.
3 October 2020: The seven guest choices who are individuals released from prison received financial help from the show's Kabuhayan ni Juan project in order to restart their own livelihood.

Trending moments and revelations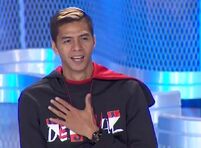 27 June 2020: The guest mayors took the internet by storm as netizens expressed their admiration towards the proactive initiatives of the group during the COVID-19 pandemic.[1]
29 June 2020: "Marikit" singer Juan Caoile together with fellow singers Lil Vinceyy, Charlie Mack, Clien Alcazar, Yumi Lacsamana, Matthaios, and Aikee's success story took the attention of netizens.[1]
4 July 2020: PBA player Arwind Santos of the San Miguel Beermen became the first guest judge to win the full cash prize of ₱50,000 after selecting the correct choices in all three rounds of the game.[12]
References
↑ 1.00 1.01 1.02 1.03 1.04 1.05 1.06 1.07 1.08 1.09 1.10 1.11 1.12 1.13 1.14 1.15 1.16 IN PHOTOS: Viral moments in Eat Bulaga's 'Bawal Judgmental', 20 February 2020, GMA Entertainment.
↑ These two pilots serve kilig vibes on Eat Bulaga's 'Bawal Judgmental', 30 January 2020, GMA News.
↑ Maine Mendoza had a hilarious kilig reaction to EB's new 'unexpected love team', 30 January 2020, GMA News.
↑ Two pilots who served kilig vibes on Eat Bulaga wish each other 'safe flights', 31 January 2020, GMA News.
↑ The two pilots paired in EB's 'Bawal Judgmental' met up in Clark, gave each other pasalubong, 8 February 2020, GMA News.
↑ Viral pilot Jeremy Go has 'no regrets' meeting Steffi Buenafe in the 'most special' way, 31 January 2020, GMA News.
↑ TGIS cast members reveal past relationships via Eat Bulaga's Bawal Judgmental segment, 27 February 2020, Philippine Entertainment Portal.
↑ 'TGIS' members reunite in EB's 'Bawal Judgmental', 27 February 2020, GMA News.
↑ Top 5 revelations from 'T.G.I.S.' reunion on 'Bawal Judgmental', 27 February 2020, The Philippine Star.
↑ TGIS cast members reveal past relationships via Eat Bulaga's Bawal Judgmental segment, 27 February 2020, Philippine Entertainment Portal.
↑ #BawalJudgmental trends on Twitter with the launch of anti-COVID-19 giant body shields!, 11 June 2020, GMA Entertainment.
↑ PBA player Arwind Santos, naka-perfect score sa Bawal Judgmental, 4 July 2020, Philippine Entertainment Portal.
Trivia
The following personalities have been both a judge and a choice:

Angelu de Leon: Judge on 2 December 2019 and choice on 27 February 2020
Boobay: Judge on 28 November 2019 and choice on 4 July 2020
Boobsie Wonderland: Judge on 29 October 2019 and choice on 4 July 2020
Tuesday Vargas: Judge on 23 June 2020 and choice on 22 August 2020
Ate Gay: Judge on 14 November 2019 and choice on 22 August 2020
Gladys Guevarra: Judge on 16 December 2019 and choice on 22 August 2020
Ciara Sotto: Choice on 27 February 2020 (alongside Angelu de Leon) and judge on 24 August 2020
Ashley Ortega: Choice on 26 February 2020 and judge on 22 September 2020
Thia Thomalla: Choice on 15 January 2020 and judge on 23 September 2020
Jiggy Manicad: Choice on 18 January 2020 and judge on 16 October 2020
Bituin Escalante: Choice on 29 August 2020 and judge on 23 October 2020
Dasuri Choi: Judge on 1 October 2020 and choice on 4 November 2020
Onyok Velasco: Choice on 29 November 2019 and judge on 13 November 2020
Ice Seguerra: Judge on 1 January 2020 and choice on 14 November 2020
Michael Flores: Choice on 27 February 2020 (alongside Ciara Sotto & Angelu de Leon) and judge on 24 November 2020
Kris Lawrence: Choice on 29 August 2020 and judge on 25 November 2020
Atty. Kit Nieto: Choice on 27 June 2020 and judge on 28 November 2020
Chris Tsuper: Choice on 22 September 2020 and judge on 3 December 2020
Migo Adecer: Choice on 29 August 2020 and judge on 10 December 2020
Sanya Lopez: Choice on 7 January 2020 and judge on 24 December 2020
Kayla Rivera: Judge on 4 December 2019 and choice both on 29 August 2020 and on 24 December 2020
Geoff Eigenmann: Judge on 24 July 2020 and choice on 26 December 2020
Ryan Eigenmann: Judge on 3 September 2020 and choice on 26 December 2020
Maxene Eigenmann: Judge on 30 November 2020 and choice on 26 December 2020
Ramon Christopher: Choice on 13 March 2020 and judge on 1 January 2021
Giselle Sanchez: Choice on 8 January 2020 and judge on 12 January 2021

The following personalities have been featured as a choice twice:

Austin Ong: Choice on 9 July 2020 and on 12 December 2020
Kayla Rivera: Choice on 29 August 2020 and on 24 December 2020

Bea Binene, Ruru Madrid, Love Añover, Jak Roberto, Barbie Forteza, Winwyn Marquez, Pops Fernandez, Kyline Alcantara, Joyce Ching and Glaiza de Castro were the only celebrities who became judges to be celebrity home partners of (usually) non-celebrity judges during episodes starting 11 June 2020.
Aicelle Santos and Philip Lazaro are the only celebrity judges that would later return as the company of the judge after they've played. On the other hand, Ruru Madrid was a support the first time, then became the judge in a later episode.
Jonjon (Epy Quizon's driver) and Walby (Kitkat's husband) first appeared as the company of the judge, then became a guest choice on a later episode.
All three live band singers—Kayla Rivera, Ice Seguerra, and Renz Verano—have played Bawal Judgmental!.
Kitkat, Jeffrey Santos, and Chuckie Dreyfus all briefly appeared on the 26 November 2019 episode as their spouses were the choices. Kitkat and Jeffrey were judges on prior episodes, while Chuckie became a choice later in the segment.
Sheena Halili, Pekto, and Kara David, all of which have been judges on prior episodes, also made surprise appearances on the 13 July 2020 episode of Bawal Judgmental! as their respective spouses were choices. Pekto and David appeared in the studio while Halili appeared through a video from her home.
Gardo Versoza's voice was also heard surprisingly on the 16 June 2020 as her wife, a TikTok user, was a choice. Versoza also made a full appearance as a judge eleven days later.
Gladys Reyes, who was a judge on 31 October 2019, briefly appeared later on 24 December 2019 as her son was a choice. On the other hand, Julia Clarete briefly appeared on the 22 January 2020 episode as her caretaker/yaya was a choice and later became a judge on 30 July 2020.
Alden Richards' sister, Riza Faulkerson (January 2, 2020), and Maine Mendoza's brother, Dean Mendoza (March 3, 2020), were invited as guest judges during each of their sibling's birthday. Alden and Maine accompanied their siblings in the sidelines during the game.
Four married couples have played on the segment: Dingdong Dantes and Marian Rivera, Camille Prats and VJ Yambao, Zoren Legaspi and Carmina Villaroel, and Rochelle Pangilinan and Arthur Solinap. Only the Legaspi & Solinap couples have not played together in the same episode.
Two Miss Millennial Philippines winners became choices on the segment. MMP 2018 Shaila Mae Rebortera and MMP 2019 Nicole Yance Borromeo were part of the Visayan-themed 15 January 2020 episode. Meanwhile, Shiara Joy Dizon, Danna Rose Socaoco, Carina Cariño, and Chanel Corpuz became guest judges at different points in the segment's run
Tom Alvarez, the voice-over announcer of Bawal Judgmental! and other segments of Eat Bulaga!, appeared as a guest choice on 23 June 2020. The episode also featured other voice-overs whose familiar voices can be recognized in well-known commercials and brands.
Jose Manalo, Allan K, Wally Bayola, and Alden Richards have appeared as guest choices in the segment
These episodes are related to the 70th Anniversary of GMA this 2020

January 18, 2020 - GMA News Reporters
February 27, 2020 - Thank God It's Sabado
March 14, 2020 - That's Entertainment
June 22, 2020 - Former TV Idols
July 20, 2020 - GMA Drama Makers
December 31, 2020 - GMA Employees

Numerous celebrities and other famous personalities have appeared on the segment as guest choices, with at least seven episodes featuring an all-star choice lineup.
Radio, television, and film celebrities who became guest choices
Actors and Actresses
Giselle Sanchez
Mico Aytona
Rhea Nakpil
Lindsay Custodio

Sherwin Ordoñez
Jesi Corcuera
Comedians
Dan-Dan de Guzman
Orca Reyes

Boobsie Wonderland
Joel "Big Mouth" Amper
Jose Manalo
Radio DJs
Klariz "DJ Kara" Magboo
Raqi Terra

Aira Biñas
Kristine Dera
Inka Magnaye

Malaya Macaraeg
Lyka Barista
Mandy Nokom
News reporters
Steve Dailisan
Michael Fajatin
Julius Segovia
Musicians
T.G.I.S. cast members
Dino Guevarra
Michael Flores
That's Entertainment cast members
Jovit Moya
Monching Gutierrez
Dancers
Ann Boleche (EB Babes)
Butch Pura (Vicor Dancers)
Kim Guevarra (EB Babes)

Jon Supan (Manoeuvres)
Alberto Dimarucut (VIP Dancers)
Miss Millennial Philippinescandidates
| | | |
| --- | --- | --- |
| Shaila Mae Rebortera (2018) | | |
Others
Internet personalities who became guest choices
YouTubers
Chucky Hits
Jai Asuncion
Christian Merck Grey

Crisha Uy
Caffey Namindang
Tita Krissy Achino

Bont Bryan Oropel
Michelle Fox
Kramer Ford
TikTokers
Ivy Vicencio
Marvin Fojas
Mannex Manhattan

Richo Bautista
Lennie Enverga
Austin Bryan Ong

Christian Antolin
Paul "Pau-Pau" Aquino
Non-media celebrities who became guest choices
Athletes
Public Servants
Community content is available under
CC-BY-SA
unless otherwise noted.