"Binhi sa Matabang Lupa" is the Holy Tuesday episode of the 2007 edition of the annual drama anthology Eat Bulaga's Lenten Special. It aired on 3 April 2007 with a total runtime of 68 minutes.
Each year, the anthology replaces the noontime show's regular programming in observance of the solemnity of Holy Week. Standalone episodes of short dramas are shown from Holy Monday to Holy Wednesday, with each episode having different characters, story, and director. A total of three episodes were produced and released for the 2007 edition.[1]
Directed by Bibeth Orteza, "Binhi sa Matabang Lupa" follows a small group of swindlers who develop a genuine change of heart after encountering a street evangelist.[2]
The episode is top-billed by Joey de Leon and Oyo Boy Sotto. Supporting cast includes Allan K, Ciara Sotto, Ruby Rodriguez, Luis Alandy, and Mr. Pogi 2006 first runner-up Ryan Julio Umengan.
Bibeth Orteza also directed the Monday episode of the 2007 edition titled "Sa Iyong Paglaya".
Plot
Luis (Joey de Leon) leads a small-time swindling group whose members live under one roof. Included in the group is his adopted son Dodo (Oyo Boy Sotto). At home, Dodo complains to his father that their fraudulent schemes do not bring in a lot of money. He tries to introduce his father to an online scam that is sure to earn them millions in cash. However, Luis initially ignores the suggestion.
With Dodo being persistent, Luis begins to show interest to the scam and even suggests of running the scheme without the involvement of the rest of the group. To make the other members leave the house, they devise a plan by making Dodo pretend to have a terminal illness in hopes of forcing their organization to close down. Instead of abandoning the group, the members remain to take care of Dodo. Lena (Ciara Sotto) even invites a street evangelist, Brother Al (Allan K), to stay in the house to cure him through prayers and Bible study.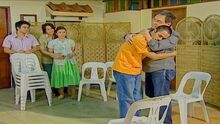 After a couple of Bible studies, the members of the group develop a genuine change of heart, with the exception of Dodo. Lena pledges not to continue their fraudulent schemes anymore and even returns the money that she stole from a client. Dodo becomes furious after their organization stopped doing crimes altogether. He blames the Word of God and expresses that Brother Al should have been thrown out of the house a long time ago. Dodo decides to leave the organization to join another swindling group. After a failed scheme, Dodo lands in jail.
Brother Al eventually disappears from the house, leaving behind a stack of adult magazines. Luis concludes that Brother Al is a fake evangelist, but assures the members of his group that the Word of God is real. He decides to transform their house into a bible study center.
After being released from jail, Dodo returns to his adoptive father to apologize for his wrongdoings.


Cast
Main cast
Supporting cast
Full episode
References
Community content is available under
CC-BY-SA
unless otherwise noted.