EB Babes was an all-female dance group that became resident dancers of the noontime show Eat Bulaga! from 2006 to 2020.
After the SexBomb Girls was pulled from the show by their manager due to a conflict with the show's producer, Eat Bulaga! decided to create a reality competition to find members for the noontime show's newest dance group that will become the "next big thing on television". The ten winners of the competition became known as the EB Babes, which officially debuted on the show in August 2006.
A second edition was held in February 2008 after one of the original members left the group due to pregnancy. The competition brought in three new members to the group to replace the vacant slot as well as to further expand the dance group.
History
[
]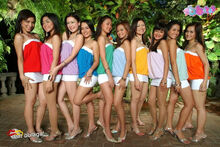 The SexBomb Girls walked out from Eat Bulaga! due to issues with former SexBomb Girls member Sugar Mercado. After her contract expired with the dance group, Sugar rose to popularity after being heavily featured and promoted on the noontime show. Her rising popularity caused a rift between Eat Bulaga!'s management and the SexBomb Girls, eventually resulting in the pull-out of the popular dance group from the noontime show. With no dancers on the floor, Eat Bulaga! immediately took action and prompted to look for their very own resident dancers. Hence, a reality competition to search for the new EB Babes was born.
The members of the EB Babes came from droves of female dancers who auditioned for a possible spot in the said dance group. The accepted applicants then had to undergo over a month of training in a dormitory-like facility located in Sitio Lucia in Sta. Maria, Bulacan. As seen on television, some of the young hopeful dancers were eliminated.
Though the producers of Eat Bulaga! could have just taken the easy way by getting a new dance group or hiring established female dancers, they made sure that the latest addition to their family would excite their viewers . Thus, they gave it a reality-television flavor which their audience enjoyed watching even with the tedious and taxing process of building a new dance group all worth it.
As Malou Choa-Fagar quipped proudly, "Para maiba lang."


Original members
[
]
Ann "Hopia" Boleche (2006–2020)

[

]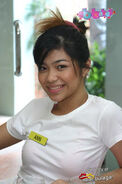 Rose Ann B. Boleche (born 29 September 1987) is the EB Babes' unofficial leader and considered as one of the most versatile dancers in the group. She was formerly affiliated with the all-female group, the ASF Dancers (a.k.a. Wowowee Girls). During the talent search and according to initial reports, she was the one who excelled the most in the training camp, especially in the field of dancing, hence the responsibility to lead the group was assigned to her, where Malou Choa-Fagar and co-members also agreed upon. One of her most notable traits is her unusual jumpy (mali-mali) behavior, which resulted in some comedic moments at the show (courtesy of Vic Sotto, Joey de Leon, and Jose Manalo's antics), thus she was given the nickname Hopia.
Somewhere around the late 2010s, she was promoted as one of the show's choreographers and stage directors.


Joyce Burgos (2006–2009)

[

]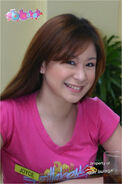 Joana Joyce M. Burgos (born 20 June 1988) is formerly the youngest member in the group until EB Babe Maiko was officially added to the roster. She also sports a shooting star tattoo. Her most notable physical trait is her natural white complexion, thus the usual running gag and joke on the show (courtesy of Joey de Leon) states, "maputi ngunit mahirap" (white but poor). Based on her performances on the show, she swings more on the hip-hop style of dancing. Besides from dancing, she also has some potential when it comes to singing, along with co-members, EB Babe Mae and EB Babe Lian, thus considering her a versatile and capable well-rounded member of the group. According to her mom when she participated in the segment Kontrapelo: Sa Pula, Sa Puti, Joyce auditioned and participated at GMA-7's reality television show Starstruck.


Angel Coronel (2006–2009)

[

]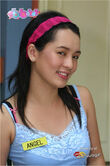 Rochelle "Angel" Coronel (born 28 December 1984) is the oldest member and formerly affiliated with the all-female group Wowowee Girls (a.k.a. Bump Girls). Due to her past affiliations, she is also considered to be as the more experienced member of the group. One of her most notable physical trait is her petite stature, which makes her the smallest among the members. At the show, there's this usual running gag where Vic Sotto often makes jokes and puns about her underarms, hence, aside from the "foundation jokes", this was one of the main reasons why she was considered as "Bossing's Fave", which is, not meant literally, but more as a comedic relief.


Mae dela Cerna (2006–2009)

[

]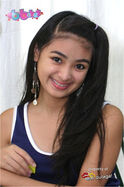 Mary Mae dela Cerna (born 27 May 1987) is often mistaken as the group's youngest member due to her youthful appearance, small face, and extra round-doe eyes. Because of this aspect and also according to interviews, she was known to the group as their Baby. She describes herself as the more serious member of the group. Aside from dancing, she has some potential in the field of acting and singing, which makes her a good well-rounded performer in the group, these unique talent of hers shows in her performances at the show, a perfect example of these are her creative cosplay dance numbers and action themed dance routines.


Saida Diola (2006–2011)

[

]
Saida E. Diola (born 17 October 1987) is a former offiliate of the Wowowee Girls (a.k.a. Bump Girls). According to interviews, being designated as the Fashionista Babe, she loves to accessorize herself with gold, also, she happens to love strawberries as well as shopping. She sports a tattoo of a crown located at her lower back. One of her most notable traits is her squeeky voice, childlike behavior and playful personality, a perfect example of this is during the controversial first ever EB Babes vs. SexBomb Girls showdown, where she gave SexBomb senior member Rochelle Pangilinan a bump from behind, which according to her in the interviews, she didn't mean no disrespect.


Kim Guevarra (2006–2008)

[

]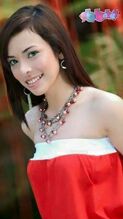 Kimberly Kate L. Guevarra (born 18 June 1987) is the tenth and final original member to be selected during the first edition of the EB Babes talent search and, unfortunately, the first original member to leave the group. She sports a tattoo located at her lower back.
At the Guillermo Mendoza Memorial Scholarship Foundation (2006) awarding ceremonies, she was reported to have collapsed at the duration of the event due to fatigue, also, during the controversial first ever showdown with the SexBomb Girls, she suffered a scratch at her back, an accident resulting in a quarrel with one of the members of the said group, specifically SexBomb Mhyca, according to initial reports and interviews, other members of the EB Babes also suferred minor bruises.
She also participated in GMA-7's reality talent search Starstruck III The Nationwide Invasion: Dream, Believe, Survive and was included in the final 20. According to Startalk (episode aired on February 16, 2008), it was reported that she was pregnant. She is currently a proud mother of a heathy boy.


Gene Maranan (2006–2012)

[

]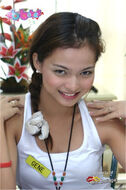 Mergene E. Maranan (born 4 November 1987) is considered by many viewers and critics alike as one of the most attractive participant during the 1st EB Babes Talent Search, which in turn garnering her an enormous amount of votes leading the competition. She was also formerly affiliated with the short-lived Honey-Me Dancers, where she waa called as "Muffin" along with her sister Gina. According to interviews, she lives in her very own condominium along with co-members EB Babe Joyce and EB Babe Ann. She also sports a butterfly tattoo located at the upper back (shoulder area).


Madel Palma (2006–2009)

[

]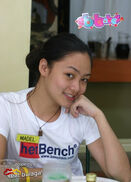 Madelyn C. Palma (born 13 February 1986) originally hails from Cebu City and very adept in the Cebuano language which shows in her accent when she talks. According to viewers, she can be considered as one of the most versatile dancers in the group along with co-member/leader EB Babe Ann, this is due to the fact that she was once a dancer in her hometown. One of her most notable performances in the show was her jump splits, with a variation of the said move accompanied with a 360 degrees spin, which was dubbed by viewers as "The 360 Degrees Jump Split". Along with Manager (voice only co-host during the "Taktak Mo O Tatakbo" segments), she performed the Cebuano version of the famous Filipino novelty song "Itaktak Mo", entitled "Itaktak Gyud", revealing that she may have some potential in singing as well. According to her in an interview, among the 3 dancers from Cebu to be chosen to compete in the 1st EB Babes Talent Search, she was very grateful that she was the one chosen to be their representative.


Lian Paz (2006–2008)

[

]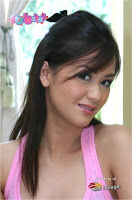 Lian Katrina I. Paz (born 4 December 1987) is one of the most controversial and well-known member of the group. A big part of this is due to her past relationships and links with famous Philippine showbiz personalities like Janno Gibbs, ex-boyfriend Mark Herras, and Paolo Contis. Considered as a well-rounded member in the group, because besides dancing, she can also sing and act. In her past (also seen at her special acting debut episode in Magpakailanman), she had a traumatizing experience in regards to attempted rape, but this episode in her life did not lean her towards the man-hater route, but instead, she tried to learn lessons from it. She's also very fond of Hello Kitty (items and the like). She also sports a tattoo of a fairy located at her left hip and another set at the lower back. According to her co-movie casts (with the Iskul Bukol family) during her guesting and participation at the TV show Family Feud, she was jokingly nicknamed as "Heart Breaker", mainly because of failed past relationships.


Belle Rivera (2006–2010)

[

]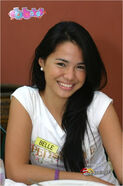 Marbelynne M. Rivera (born 29 November 1987) is the one who excels the most in the field of singing, the hosts even consider her singing talents as quite exceptional, a perfect example of this is when the EB Babes perform a song number, she usually leads the group in this aspect. During the EB Babes' first ever guest appearance in All Star K!, she was one of the few participants who won the grand prize of ₱1 million, where co-member EB Babe Joyce served as her final obstacle. She also sports a tattoo located at her neck and hips.
Later members
[
]
Later Members Profile
[
]
Maiko Eleva P. Ison (2008 - 2009)
Just like EB Babes members Saida and Angel, she came from the same group as them in Wowowee Girls, the last member of the former group to leave. She initially joined and passed the auditions, but on the reality show, she was first to be eliminated. She returns in 2008, after a wildcard segment was announced to fill up the departure of one original member, and to expand the group. She, alongside Brenda and Alex won the contest.
She became part of the dancer part of the group, and joined the group in participating in the film Iskul Bukol film. She was the subject of Joey de Leon's antics. She left the group for further pursuing her studies and to marry her fiancé. Later, Joey de Leon offered her work in TV5, which she accepted and became part of his shows there.
She died in a drowning accident.
EB Babe Alex and Brenda (2009)
Joined the wildcard edition with other hopefuls to fill in a vacant spot and to expand the group. Runners up with EB Babe Maiko get the 1st slot. Waived their memberships and left the group, giving their slots to Molly, Maricorn, Stephanie, Ria and Yosh.
Molly Baylon (2009-2018)
She, Stephanie and Maricorn joined the group while they were expanding. Just like Maiko, they were put as backup dancers, and to fill EB Babes Brenda and Alex's waiving of their membership.
Maricorn Mangampo (2009-2018)
She was a later addition to the group as an expansion. Became backup dancer of the group.
Stephanie Ann Tan (2009-2012)
She joined the group as later addition to the group as expansion. She left the group in 2012.
She now had a streaming service where she streams her Mobile Legends: Bang Bang gameplay.
Ria Duenog (2009-2013)
Joined the group as an expansion member. Later on left the group.
Yosh Rivera (2009-2013)
Joined the group as an expansion. Fired from the group after a scandal involving her and Wally Bayola happened. Wally was given indefinite suspension as punishment, and she fired from
the group.
Aizel Moneva (2012-2016)
She joined the group after some of the core members left, like EB Babe Mae did to join Mocha Girls.
Lyka Relloso (2011-2019)
Joined the group later on, to fill in a slot.