"Hakbang sa Pangarap" is the first Holy Tuesday episode of the 2014 edition of the annual drama anthology Eat Bulaga's Lenten Special. It precedes the episode "Kulungan Kanlungan" in the Tuesday lineup. The episode aired on 15 April 2014 with a total runtime of 58 minutes.
Each year, the anthology replaces the noontime show's regular programming in observance of the solemnity of Holy Week. Standalone episodes of short dramas are shown from Holy Monday to Holy Wednesday, with each episode having different characters, story, and director.
It is topbilled by Michael V, Assunta de Rossi, and Bea Binene. Supporting cast includes Wally Bayola, Joey de Leon, Joyce Pring, Rolando Inocencio, Super Sireyna 2013 grand winner Francine Garcia, and Mr. Pogi 2012 grand winner John Edric Ulang.
The episode is directed by Jun Lana. He directed another episode for the 2014 anthology titled "Ilaw ng Kahapon".
Plot
Noel and Carmen Perfecto (Michael V and Assunta de Rossi) are a paralytic couple who, in spite of their physical disability, are able to raise a normal and happy family. Despite their daughter Niña (Bea Binene) inheriting her parents' illness, she still grows up to be jolly, creative, and productive. Her artistic skills has even earned her a scholarship from a fine arts university in Manila.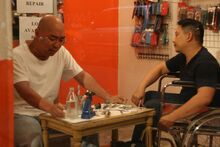 Niña reveals her dream of going to college to her overprotective father. Noel immediately dismisses her aspirations, believing that she is incapable of holding her own outside Barangay Maligaya. After witnessing his daughter getting bullied by other girls, Noel further solidifies his position of her daughter not going to college. Niña confronts her father by comparing him to the bullies who also belittle her competence because of her physical disability. Even though their family is already content, Niña still dreams of showing her God-given talent to the world, which she hopes will help to give her parents a better life someday. Nevertheless, Noel refuses to change his mind.
After suffering from a terrible stomachache, Carmen is rushed to the hospital. Noel blames his daughter for not being at home during her mother's distress. He likens the situation to what could happen if she leaves them behind to go to college. Outraged at Noel's unreasonable tantrum, Niña points out that the real issue here is her overprotective father still not wanting her to leave. She begs his father to trust and understand her.
Noel discovers Niña's artworks and realizes his daughter's extraordinary talent. He decides to allow his daughter to go to college and to fulfill her dreams.
Cast
Main cast
Michael V as Noel Perfecto
Assunta de Rossi as Carmen Perfecto
Bea Binene as Niña Perfecto
Supporting cast
Also starring
Francine Garcia as Tep-Tep
Rolando Inocencio as John
Accolades
Year
Category
Nominated Work/Artist
Result
2014
Best Story
"Hakbang sa Pangarap"
Nominated
Best Actor
Michael V
Nominated
Best Supporting Role
Wally Bayola
Won
Full episode
The two Holy Tuesday episodes are included in the following video. The first half of the video features the "Hakbang sa Pangarap" episode. The second half features the "Kulungan Kanlungan" episode, which begins at 58:44.
Community content is available under
CC-BY-SA
unless otherwise noted.