Kakaibang Bida is a talent segment that features magicians, comedians, dancers, singers, contortionists, jugglers, and other performers with unique talents. The segment draws its inspiration from the British reality television series Got Talent.
In order to get more people to join the competition, Kakaibang Bida was replaced with the segment Kahit Sino Pwede!, which follows the exactly the same format as the former segment Kakaibang Bida. However, the title of the new segment emphasizes that anyone can join the competition.





Overview
[
]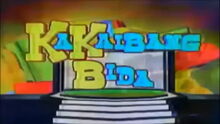 In Kakaibang Bida, competitors must first present their unique talents in the daily elimination round of the competition. Seven judges must then rate the performance of the contestants from 1 to 10. The judges consists of three Eat Bulaga! hosts, two studio audience members, and two homeviewers via phone call. The contestant with the highest score then goes to the jackpot round.
In the jackpot round, the winner has the opportunity to win cash prize based on the weight of the coins that he or she must scoop and transfer from any of the coin basins to the weighing scale in the center of the stage. The score that they received from the judges in the first round is their time limit in the jackpot round. The weight of the coins inside the weighing scale is the prize money of the winner (e.g. 27.47 = ₱27,470). The winner must then select a numbered card held by the Dabarkads in order to increase his or her cash winnings. The cards may double or triple his or her winnings, or may simply add a certain amount to the winnings. The daily winner must then return to the weekly finals in order to compete with other daily winners and add more cash money to his or her earnings.
The five daily winners must then compete with one another in the weekly finals. The winner then advances to the jackpot round, which follows the same concept as the daily jackpot round. However, instead of adding or multiplying the winner's prize money, the numbered cards contain a certain number of months, which represents the number of months the winner will receive his or her cash prize. For instance, if the contestant won ₱20,000 in the weekly finals and selects the card that contains the number "5", the winner will receive ₱20,000 every month for five months.