Kalyeserye (alternatively KalyeSerye: #KiligPaMore) is an improvised comedy soap opera that revolves around the love story of Alden Richards and Maine Mendoza as the fictional couple known as AlDub. It is a subsegment of Juan for All, All for Juan: Bayanihan of d' Pipol. 
The segment was originally titled Problem Solving, which was a barangay portion that gave the hosts an opportunity to satirically answer questions of barangay residents. Problem Solving originally featured only Lola Nidora and Yaya Dub as additional comic reliefs for the segment.
However, Problem Solving gradually evolved into an impromptu sitcom after the accidental discovery of a potent chemistry between Alden Richards and Maine Mendoza. The segment was eventually titled Kalyeserye, which was a term coined by Joey de Leon.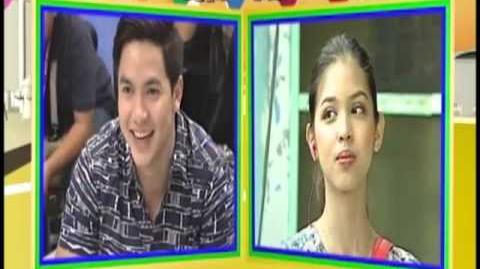 Although still titled as Problem Solving, many consider 16 July 2015 as the official start of the segment Kalyeserye. The date marks the day that Alden Richards and Maine Mendoza saw each other for the very first time.
The segment features a live improvised narrative with the barangay hosts as its main cast, primarily Maine Mendoza, Alden Richards, Wally Bayola, Paolo Ballesteros, and Jose Manalo. As an added unique element, the main cast has played various roles throughout the segment's run, especially Jose, Wally, and Paolo. Ultimately, JoWaPao became most notable for playing the three grandmothers in the story as Lola Nidora, Lola Tidora, and Lola Tinidora. Meanwhile, the studio hosts serve as live commentators that interact with the characters as well as the audience.
The segment went on hiatus on 3 September 2016, but returned shortly after a month on 15 October 2016. The second incarnation of the segment ended its run on 17 December 2016.
It has 400 Episodes, the first incarnation has 345 Episodes and the second incarnation has 55 Episodes