Kalyeserye (alternatively KalyeSerye: #KiligPaMore) is an improvised romantic comedy teleserye aired as a segment of Eat Bulaga! that revolves around the love story of Alden Richards and Maine Mendoza as the fictional couple known as AlDub. The segment became well-known for the love team's use of lip-syncing and split-screen display to communicate and interact with one another as they struggle to fight for their forbidden, long-distance love. 
Alden Richards plays the role of himself and is usually stationed at the Broadway Centrum, while Maine Mendoza plays the character of Yaya Dub and is assigned on the streets of different barangays that Juan for All, All for Juan visits daily. They are accompanied by Jose Manalo, Wally Bayola, and Paolo Ballesteros as Lola Tinidora, Lola Nidora, and Lola Tidora, respectively. The characters break the fourth wall when they respond to the studio and barangay hosts' banters and reactions to their scene.
The segment proved to be a phenomenal success in both broadcast television and social media, resulting in a significant increase in viewership and popularity of the noontime show. The teleserye achieved its peak popularity with the episode "Sa Tamang Panahon" held at the Philippine Arena. The unprecedented social media support for the love team has contributed immensely to the individual careers of Alden Richards and showbiz newcomer Maine Mendoza.
The segment's title is a portmanteau of the words "kalye" (street) and "teleserye" (television series). It was coined by Eat Bulaga! host Joey de Leon to refer to the story's unique usage of the streets as a regular setting. Kalyeserye is a subsegment of Juan for All, All for Juan: Bayanihan of d' Pipol.
Plot
Yaya Dub (Maine Mendoza) is the unsmiling nanny and adopted granddaughter of the strict and formidable Lola Nidora (Wally Bayola). Both of them travel with the barangay hosts of Problem Solving to provide solutions to the problems of local residents around the country. Meanwhile, Alden Richards is a regular host of the noontime show. Yaya Dub and Alden were working separate elements of the show and had no scenes together until one day in July when cameras caught Yaya Dub admiring Alden on a monitor. Because of their separate assignments on the show, they find unique ways to communicate with one another via split-screen dubsmashes and pabebe waves.
Believing in the traditional values of love, Lola Nidora begins to oppose the couple's rapidly budding romance. She devises ways to keep the two apart because the stern Lola believes it is not yet the right time for them to take their relationship forward. As a suitor of Yaya Dub, Alden must prove himself worthy through the traditional ways of courtship which requires hard work, commitment, and perseverance.
Socialites Frankie Arenolli (Jose Manalo) and DuhRizz (Wally Bayola) make things even more complicated for the pair. However, AlDub finds an ally with Lola Nidora's other sisters, Lola Tidora (Paolo Ballesteros) and Lola Tinidora (Jose Manalo). With their help, Alden and Yaya Dub try to convince Lola Nidora to provide them their much-awaited "tamang panahon".


Cast
Kalyeserye is known for its cast members playing multiple roles in the story. The barangay hosts—Jose Manalo, Wally Bayola, and Paolo Ballesteros—give life to many of the major characters, while Alden Richards and Maine Mendoza have also played other minor characters in addition to their primary characters. Other Eat Bulaga! hosts also joined the story from time to time as supporting characters, while guest celebrities were occasionally invited to play minor or cameo roles.
Due to the enormous cast of Kalyeserye, only the main cast members and their primary roles are listed below.
Origins and development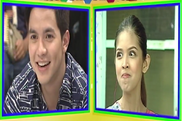 After gaining popularity from her viral Dubsmash videos, Maine Mendoza was invited to audition on Eat Bulaga! as a temporary character that would accompany Wally Bayola's new character for Problem Solving, which was a Juan for All, All for Juan segment that gave the barangay hosts an opportunity to provide satirical solutions to the problems and issues of barangay residents. On 4 July 2015, Maine Mendoza debuted on Eat Bulaga! as Yaya Dub, the personal assistant and adopted granddaughter of Wally Bayola's character, Lola Nidora.
Her character was an unsmiling and snobbish caregiver who was not allowed to speak or show emotions. She was only able to communicate with other people using ten-second sound bites taken from various films, television shows, songs, interviews, and celebrity catchphrases, much like what she did on Dubsmash. Because she was supposed to act serious at all times, it occasionally became the goal of the other co-hosts to make her laugh or even just crack a smile.
Upon discovering that Maine had a crush on Eat Bulaga! host Alden Richards, the show's producers immediately capitalized by scheming an 'ambush' on Maine. On 16 July 2015, Alden sat in the audience with a camera pointed at him, and once Maine was preoccupied doing one of her Yaya Dub dubsmashes, Alden's video feed was propped up on the opposite screen. Maine glanced at the monitor and found Alden watching her. Unable to contain her "kilig", Maine broke out of her character and blushed. Maine desperately tried to hide her smile, but by then, a new love team was born.
Producers sensed an organic love story and began to incorporate the budding romance of the newly-born AlDub into the show's daily storyline. Gradually, Problem Solving evolved into an improvised teleserye which was eventually titled Kalyeserye after being coined by Joey de Leon.


Hallmarks
Prior to "Sa Tamang Panahon"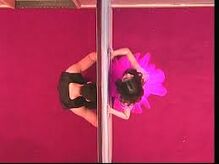 The couple's near-encounters on live television became pivotal moments throughout the series. In the 8 August 2015 episode which featured the first wedding between the YaKie tandem, Yaya Dub fainted during the live scene and was immediately rushed to a nearby hospital. Yaya Dub's actress Maine Mendoza later revealed through her social media accounts that her collapse was real and that she experienced fatigue hours prior to the show. 
On 5 September 2015, Yaya Dub appeared at the Broadway Centrum for her Cinderella-themed performance in the wildcard round of Bulaga Pa More!: Dabarkads Pa More!. The episode marked the first closest rendezvous between the two before being interrupted by a large plywood planted by Lola Nidora to stop them from reaching each other.


"Sa Tamang Panahon"
Main article: Sa Tamang Panahon
The series reached the climax of its story on 24 October 2015 during the show's special presentation titled "Sa Tamang Panahon". Approximately 55,000 people gathered at the Philippine Arena to witness the highly-anticipated meeting of Alden and Yaya Dub; the couple were able to see and interact with each other without any hindrance from Lola Nidora.
Ticket sales for premium seats were sold-out three hours after Lola Nidora announced the concert on 17 October 2015. The rest of the tickets were sold-out two days later.
The total revenue of ticket sales (₱14 million) was allotted for the AlDub Library Project, which aimed to build libraries for less fortunate schools across the country. With 41 million tweets within 24 hours, #ALDubEBTamangPanahon, the official hashtag of the event, became the third most tweeted topic for the TV category worldwide in 2015 and the most used hashtag within 24 hours on Twitter. The show garnered a 50.8% Mega Manila rating, becoming the highest-rated episode of Eat Bulaga! and the most watched show in 2015.


Wedding
Main article: Kalyeserye: The Wedding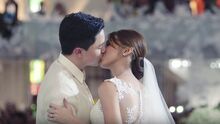 Kalyeserye temporarily took a break on 3 September 2016. The story concluded with Lola Nidora and Lola Tinidora leaving for the United States. After its month-long hiatus, the series returned 15 October 2016. The story opened five years later with the Lolas returning to the Philippines and Alden asking them for Yaya Dub's hand in marriage. The week then focused on the couple's preparations for their wedding.
On 22 October 2016, the wedding of AlDub took place at the Shrine of Jesus the Divine Word in Quezon City. #ALDUBWedding, the official Twitter hashtag for the event, gained over 6 million tweets within 24 hours. The seemingly realistic wedding marked another milestone for the loveteam's story, sealing their marriage with a kiss.


Ending and U.S. shows
Main article: KS sa US
Kalyeserye ended on 17 December 2016 with AlDub's twin babies named Charmaine and Richard baptized and the family ready to leave to take a long vacation in Russia with Alden's grandmother, Lola Babah (Ai-Ai delas Alas). Meanwhile, Lola Nidora, Lola Tidora, and Lola Tinidora also decided to migrate to the United States for good.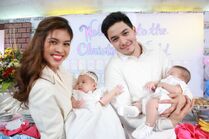 The following year, the cast of Kalyeserye briefly reprised their roles during their live show tour in the United States titled KS sa US. Two shows were held at the Pasadena Civic Auditorium in Pasadena, California on 9 April, and at the Kings Theatre in Brooklyn, New York on 12 April 2017.
The two shows were formatted as a continuation of the Kalyeserye storyline, telling the story of what happened when AlDub and their two children decided to visit the three Lolas in the United States. The two US shows themselves were also not alike. In other words, the New York show was the continuation of the Los Angeles show.


Reception
Eat Bulaga! ratings
Throughout its run, the segment helped boost the show's ratings immensely with some of its milestone moments.
The 12 August 2015 episode, which showcased a Cinderella-like story and the near-meeting of AlDub, posted a rating of 36.1%, which was an extraordinary accomplishment for a weekday episode. The first and second dates of AlDub garnered ratings of 41.3% and 45.7%, respectively. These episodes were also the first times that Eat Bulaga! tapped the 40 percent mark.
On 24 October 2015, Eat Bulaga! held "Sa Tamang Panahon" at the Philippine Arena. According to AGB Nielsen, the live airing of the event garnered a 50.8% Mega Manila household rating, becoming the most watched television event in 2015. For the first time in the show's history, Eat Bulaga! was able to breach the 50% mark.


Accolades
People Asia Magazine hailed Alden Richards and Maine Mendoza as the 2016 People of the Year. Even the prestigious Guinness World Records recognized "Sa Tamang Panahon" as a record-breaking event in Twitter history for generating over 40 million tweets within 24 hours. The main cast members and the segment itself also won various awards and special recognitions from local award-giving bodies such as the PMPC Star Awards for Television, Gawad Tanglaw Awards, and Aliw Awards for Live Entertainment.
Jose Manalo, Wally Bayola, Paolo Ballesteros, Alden Richards, and Maine Mendoza received stars on the Eastwood City Walk of Fame on December 2015 for their roles in Kalyeserye.
International news sites, such as BBC News and Bloomberg News, also took notice of the record-breaking global twitterstorm by calling AlDub as "a social media phenomenon about love and lip-synching".


Spin-offs
"Kaputol ng Buhay" is the second Holy Monday episode of the 2016 edition of Eat Bulaga's Lenten Special. The episode aired on 21 March 2016 and is directed by Jose Rowell Ikamen. It is topbilled by Jose Manalo, Wally Bayola, Paolo Ballesteros, and Maine Mendoza who reprised their roles. Although an important part of Kalyeserye, Alden Richards' character was omitted from the story to divert the focus away from AlDub and instead to provide the spotlight on the sisterhood of Lola Nidora, Lola Tidora, and Lola Tinidora.
The Lolas' Beautiful Show is a comedy talk show that premiered on 25 September 2017. Jose Manalo, Wally Bayola, and Paolo Ballesteros reprised their iconic Kalyeserye characters as the hosts of the show. It concluded on 2 February 2018 with a total of 95 episodes.
Jose Manalo, Wally Bayola, and Paolo Ballesteros reprised their roles once again as the three Lolas in the 2017 zombie comedy film directed by Mark A. Reyes titled Trip Ubusan: The Lolas vs. Zombies. The film is a parody of the 2016 South Korean box-office smash hit Train to Busan.
The Lolas is a comedy sketch of The Barangay Jokers that follows the daily lives of Lola Nidora, Lola Tidora, and Lola Tinidora in their own home. Although the comedy sketch is directly related to the former segment Kalyeserye, it does not feature Alden Richards and Maine Mendoza.


Soundtracks
Kalyeserye uses many songs and other Dubsmash sound bites in order to help its main characters communicate with one another. The most played song in the segment is "God Gave Me You" by Brian White, a 1999 country song which has become the "national anthem" for AlDub. Various songs are also used as leitmotif or theme music for several major characters, and entrance songs are used similar how professional wrestlers have entrance music when they enter the ring. Lola Nidora, for instance, dances to the song "Dessert" by Dawin whenever she enters the scene. Meanwhile, Lola Tinidora is iconic for climbing ladders while dancing to "Mambo No. 5" by Lou Bega.
Due to the multitude of songs used in Kalyeserye, only the main tracks are listed below.
Merchandise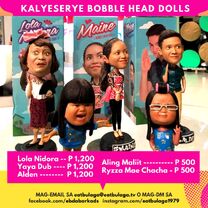 On 24 October 2016, Eat Bulaga! unveiled limited edition Kalyeserye bobblehead dolls of the main characters to commemorate the first anniversary of "Sa Tamang Panahon". The bobbleheads were later made available for purchase at the e-commerce site Lazada.
On August 2017, Xeleb Games released the official Kalyeserye mobile game which was only made available for Android devices. To promote the app, Eat Bulaga! awarded ₱2,000, cellphone load, or bobblehead dolls to the player with the highest score each day.
On 13 May 2020, Ryzza Mae Dizon (as Boss Madam) and Wally Bayola (as Lola Nidora) hosted a Facebook Live where they reintroduced the collector's item bobblehead dolls of Lola Nidora, Yaya Dub, and Alden, alongside two versions of Ryzza Mae's dolls. The dolls are available to the public for purchase as part of the Kabuhayan ni Juan project, where revenue from the sales will be used to help small businesses who were affected by the long-running community quarantine caused by the COVID-19 crisis.


Notes and trivia
As part of its year-end specials in 2015 and 2016, Eat Bulaga! replayed several milestone episodes of Kalyeserye from 26 to 31 December.
Kalyeserye replays for the 2015 year-end special
Replay date
Episode
Day
Original air date
26 December 2015
"The YaKie Wedding (The Wedding Crasher)"
21
8 August 2015
"Plywood"
45
5 September 2015
"Ang Muling Pagkikita"
51
12 September 2015
28 December 2015
"Ang Unang Sulyap"
24
12 August 2015
"Run, Alden, Run!"
27
15 August 2015
"Swim, Alden, Swim!"
39
29 August 2015
"AlDub's First Date"
57
19 September 2015
29 December 2015
"Ang Pagdalaw sa Mansyon (National Pabebe Wave Day)"
63
26 September 2015
30 December 2015
"Sa Tamang Panahon"
87
24 October 2015
31 December 2015
Kalyeserye replays for the 2016 year-end special
Replay date
Episode
Day
Original air date
26 December 2016
"Happy Bae Day Alden!"
147
2 January 2016
"The Maine Event!"
Special
5 March 2016
27 December 2015
"1st Anniversary"
303
16 July 2016
28 December 2016
"She Lives!"
315
30 July 2016
29 December 2016
"Alamat ng Fansign"
162
25 January 2016
30 December 2016
"Boogie Pa More"
166
30 January 2016
31 December 2015
"The Wedding"
352
22 October 2016
Due to the COVID-19 pandemic, Eat Bulaga! opted to chronologically replay selected episodes of Kalyeserye as a way to "bring the streets back to the viewers' homes" during the community quarantine. In a Facebook Live conference between the hosts, Eat Bulaga! originally planned to re-air the segment for two weeks beginning on 4 May 2020. But due to public demand, Kalyeserye was extended for an entire month. Netizens joked about the relevance of the segment's antics in the time of the pandemic, such as the "no touch" rule and the split-screen interactions of AlDub which resemble social distancing guidelines and Zoom meetings.
2020 Kalyeserye replays during the COVID-19 pandemic
Replay date
Episode
Day
Original air date
2 April 2020
"Sa Tamang Panahon"
87
24 October 2015
4 May 2020
"Ang Simula ng Forever"
1
16 July 2015
"Yaya, Babaeng Filipina!"
2
17 July 2015
"First "On-screen" Kiss"
3
18 July 2015
"Alden, Where Na You?"
5
21 July 2015
5 May 2020
"Babala Asawa Ni Babalu! (AlDub 1st Weeksary!)"
7
23 July 2015
6 May 2020
"Ang Secret Diary"
10
27 July 2015
7 May 2020
"Ang Fifty One Thousand Five Hundred Million (2nd Weeksary)"
13
30 July 2015
"Huli Ka, Lola!"
15
1 August 2015
8 May 2020
"The YaKie Proposal and Engagement (3rd Weeksary)"
19
6 August 2015
"The Runaway Bride"
20
7 August 2015
9 May 2020
"The YaKie Wedding (The Wedding Crasher)"
21
8 August 2015
11 May 2020
"Ang Unang Sulyap"
24
12 August 2015
12 May 2020
"Run, Alden, Run!"
27
15 August 2015
13 May 2020
"The YaKie Wedding (Ang Katotohanan!)"
33
22 August 2015
14 May 2020
"Kilig Pa More!"
42
2 September 2015
15 May 2020
"Swim, Alden, Swim!"
39
29 August 2015
16 May 2020
"Plywood"
45
5 September 2015
18 May 2020
"The Kidnap: Si Alden Naman! (8th Weeksary)"
49
10 September 2015
19 May 2020
"Ang Muling Pagkikita"
51
12 September 2015
20 May 2020
"EAT's a Date! (Happy 9th Weeksary!)"
55
17 September 2015
21 May 2020
"AlDub's First Date"
57
19 September 2015
22 May 2020
"Happy AlDub 10th Weeksary!"
61
24 September 2015
23 May 2020
"Ang Pagdalaw sa Mansyon (National Pabebe Wave Day)"
63
26 September 2015
25 May 2020
"Tinidora And Bill"
66
30 September 2015
26 May 2020
"Live Laugh Love"
69
3 October 2015
27 May 2020
"Paalam Yaya"
78
14 October 2015
28 May 2020
"The Big Surprise!"
81
17 October 2015
29 May 2020
"The Truth"
82
19 October 2015
30 May 2020
"Sa Tamang Panahon"
87
24 October 2015
Community content is available under
CC-BY-SA
unless otherwise noted.