Kap's Book of Amazing Beauty Tips is a segment in which the hosts provide comical beauty tips for barangay residents who have beauty problems. It is a subsegment of Juan for All, All for Juan: Bayanihan of d' Pipol. 
Each day, a barangay resident shares his or her particular beauty problem in hopes of a possible solution from the segment's hosts. In response, the barangay hosts reply with bizarre and ridiculous solutions to keep the conversation funny and entertaining for the viewers. The hosts may even demonstrate their tips for added entertainment value. The tips given by the hosts are not meant to be taken seriously.
The barangay hosts of the segment roleplays during the segment as barangay officials of a fictional community known as Barangay Bigote. Jose Manalo plays the role of Kap Jose and Paolo Ballesteros roleplays as Ngangawad Paolo. From time to time, Alden Richards and Maine Mendoza also partakes in the segment as Bae-rangay Tanod Alden and Secretary Maine, respectively. Wally Bayola plays the role of Chiska the Barangay Chismosa who offers beauty tips with Madam Kilay.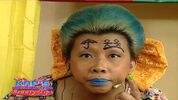 The segment features the Internet sensation Jinky Cubillan-Anderson, also known as Madam Kilay, who trended online after posting a series of humorous beauty tutorials on Facebook. She is well-known for her hand-drawn eyebrows, which features very interesting shapes and illustrations, as well as her American husband who she calls "Afam".
Community content is available under
CC-BY-SA
unless otherwise noted.