Kap's Book of Amazing True Love Stories is a special segment for Valentine's Day in which barangay residents share their true love stories live on television. It is a subsegment of Juan for All, All for Juan: Bayanihan of d' Pipol. 
The segment is a kuwentuhan portion in which the barangay hosts listen to the featured couple who wanted to share and discuss their love story. The hosts usually create a hybrid term or a portmanteau in order to abbreviate the two names of the couple as an introduction to their story.
Throughout the kuwentuhan, the hosts comically make funny remarks to keep the conversation lighthearted and entertaining. One person is first introduced to hear his or her first side of the story, while the other person is later brought in to complete their love story. The couple shares how they first met, what characteristics attracted them to one another, and what makes their story amazing and unique.
In the end, the story of the featured couple is placed inside a big scrapbook that is filled with amazing true love stories of other couples.
Overview
Edit
January 2017–April 2017
Edit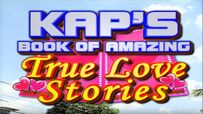 The barangay hosts of the segment roleplays during the segment as barangay officials of a fictional community known as Barangay Bigote. Jose Manalo plays the role of Kap Jose, Wally Bayola roleplays as Ex-O Wally, and Paolo Ballesteros plays the role of Ngangawad Paolo. From time to time, Alden Richards and Maine Mendoza also partakes in the segment as Bae-rangay Tanod Alden and Secretary Maine, respectively. Whenever one of the main hosts is absent, Jimmy Santos sometimes appears in the segment as Kap ReJim. Although the segment was a special Valentine's Day segment, the original edition lasted for three months, which started on January 2017 and ended on April 2017.


February 2018
Edit
Unlike the original Kap's Book of Amazing True Love Stories, the 2018 edition acts as an extension of the Pamilya Nunal comedy skit from the segment Barangay Jokers. The mole-faced family consists of Jose Manalo as the father as well as the community's barangay captain, Wally Bayola as the sweet-loving mother, and Paolo Ballesteros and Maine Mendoza as the two children who compiles the love stories in the book. Since Alden Richards is no longer assigned as a barangay host for Juan for All, All for Juan: Bayanihan of d' Pipol, he did not participate as one of the hosts of this year's segment. The segment lasted for a month.
Community content is available under
CC-BY-SA
unless otherwise noted.