"Karugtong ng Puso" is the first Holy Monday episode of the 2014 edition of the annual drama anthology Eat Bulaga's Lenten Special. It precedes the episode "Ilaw ng Kahapon" in the Monday lineup. The episode aired on 14 April 2014 with a total runtime of 55 minutes.
Each year, the anthology replaces the noontime show's regular programming in observance of the solemnity of Holy Week. Standalone episodes of short dramas are shown from Holy Monday to Holy Wednesday, with each episode having different characters, story, and director.
The episode is inspired by the life story of Emerita Seda, the housemaid who used her winnings from Juan for All, All for Juan to pay for her mother's medications. 
It is topbilled by Paolo Ballesteros, Susan Roces, and Ehra Madrigal. Supporting cast includes Tito Sotto, Ehra Madrigal, Raquel Monteza, Mosang, Miggs Cuaderno, and Angelu de Leon.
The episode is directed by Mark A. Reyes.
Plot
As a longtime and trusted housemaid of the Tolentino clan, Maria (Susan Roces) inherits her employers' old house which she shares with the family's adopted son, Reynaldo (Paolo Ballesteros). When Reynaldo comes home from abroad, he divides and settles the property with his own family, throwing Maria out and letting her occupy a small quarter behind the main house. Reynaldo is infuriated that his former nanny received a portion of his inheritance which he still claims should be rightfully his. Despite this feud, deep love for her former alaga would prevail upon Maria.
Reynaldo's son Ben (Miggs Cuaderno) begins to develop a close bond with Maria after he keeps sneaking out to visit her in her quarters. Reminiscent of the past, Maria introduces the child to his father's favorite childhood hobbies. They keep their friendship a secret from his parents in order to not worsen the feud.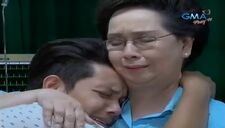 One day, Reynaldo's wife Nadine (Ehra Madrigal) sees a neighbor using their front yard's faucet to fill an empty bucket with water. Reynaldo and Nadine confronts Maria for allowing neighbors to collect water from their property without their permission. In an emotional outburst, Reynaldo expresses his hatred for Maria for stealing his parents from him and for being unworthy of inheriting the house since she is just a housemaid. Enraged, Maria slaps Reynaldo's face and questions his absence during the final moments of his parents. She reveals that she was the one who took care of his parents who were longing for their child's return. Despite her frenzy, Maria still refuses to leave Reynaldo because she has considered him as her own child.
Later that night, Reynaldo is rushed to the hospital where the doctor diagnoses with a serious kidney disease. With little savings to pay for the expensive treatment, Reynaldo's life rests in limbo. The doctor later reveals that Maria has already paid all of their medical expenses. Reynaldo expresses his deep gratitude for Maria's undying loyalty and finally reconciles with her former nanny.
Back from the hospital, Reynaldo decides to let Maria live with them in the main house as part of their family.
Cast
Main cast
Supporting cast
Also starring
Angelu de Leon as young Maria
Helen Gamboa as Reynaldo's mother (pictured only)
Accolades
Year
Category
Nominated Work/Artist
Result
2014
Best Story
"Karugtong ng Puso"
Nominated
Best Actor
Paolo Ballesteros
Nominated
Full episode
The two Holy Monday episodes are included in the following video. The first half of the video features the "Karugtong ng Puso" episode, while the second half features the "Ilaw ng Kahapon" episode.
Community content is available under
CC-BY-SA
unless otherwise noted.