Kaserola ng Kabayanan is a game segment that involves cooking pots and a lottery machine. The segment's caravan travels all across the country to bring the segment to the Filipino people.
The segment takes its name from the title of one of Eat Bulaga!'s earliest segments, Kaserola ng Kayamanan.
Kaserola ng Kabayanan was the pioneer game that inspired future Eat Bulaga! segments such as Meron o Wala and Laban o Bawi. It also gave rise to the Pera o Bayong segment of rival show Magandang Tanghali Bayan. The segment is also likely the predecessor of Juan for All, All for Juan: Bayanihan of d' Pipol, which aims to bring the show closer to barangay residents.
Overview
[
]
1997–1998 Edition

[

]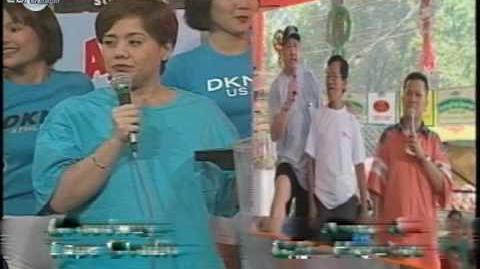 One lucky person from the barangayaudience is randomly chosen to play the game for a chance to win a cash prize. The player is presented with ten cooking pots that are labeled with digits from 0 to 9. The player must then choose five digits out of the ten choices of cooking pots.
The hosts in the studio will then draw three numbered balls from the lottery machine. If any of the numbers drawn from the lottery machine match any of the five numbered pots chosen by the player, the player wins a cash prize.
The winning player then gets a chance to play in the jackpot extravaganza of the segment for a chance to win ₱500,000.

2009 Edition

[

]
As part of Eat Bulaga!'s 30th anniversary celebration dubbed as "Tatlong Dekads ng Dabarkads", the noontime show brought back one of its classic segment Kaserola ng Kabayanan in the second half of 2009 as a way to bring the show closer to the Filipino people. The segment gave away thousands of cash, souvenir items, and gift packs to barangay residents across the country.