"Kulungan Kanlungan" is the second Holy Tuesday episode of the 2014 edition of the annual drama anthology Eat Bulaga's Lenten Special. It succeeds the episode "Hakbang sa Pangarap" in the Tuesday lineup. The episode aired on 15 April 2014 with a total runtime of 56 minutes.
Each year, the anthology replaces the noontime show's regular programming in observance of the solemnity of Holy Week. Standalone episodes of short dramas are shown from Holy Monday to Holy Wednesday, with each episode having different characters, story, and director.
It is topbilled by Maricel Soriano, Keempee de Leon, Pia Guanio, and Isabelle Daza. Supporting cast includes Isabelle Daza, Allan Paule and BJ Forbes.
The episode is directed by Gina Alajar.





Plot
Sedes (Maricel Soriano) is the oldest of five children who assumed the responsibility of looking after her siblings' welfare ever since the death of their parents decades ago. She is overprotective of her brothers and sisters in fear that they might suffer their parents' fate. However, her authoritarian disciplinary tactics has caused her siblings to feel inhibited and constrained instead. As a result, Aura (Pia Guanio) has become openly rebellious, Jodie (Isabelle Daza) has become helplessly submissive, and Ebber (Keempee de Leon) has become secretively disobedient.
One of Ebber's deepest secrets is his biological son Gello (BJ Forbes), who was believed for a long time to have been abandoned by his mother at their house. For 18 years, Ebber kept the truth from everyone, including Gello himself, in fear of infuriating Sedes. Only when Gello got into an accident and was rushed to the hospital did Ebber reveal his fatherhood to his siblings. In an emotional confrontation, Sedes lets out her frustration to Ebber for betraying her trust. Back from the hospital, Ebber decides to take his son away from Sedes' authority to live together with his son at a new home.
Tired of Sedes' controlling personality, Jodie begs Aura to take her to Kuwait where she one worked as a domestic helper. Aura reveals to her younger sister the abuse that she experienced from her employer while working abroad. Sedes overhears their conversation and reflects on the way she treats her siblings.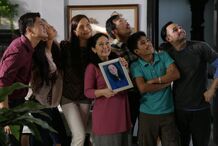 The next day, Sedes tries to console Aura and informs her that she now knows the truth. Aura tells her sister that she doesn't need her concern and pleads her to stop invading everyone's privacy. Aura and Jodie run away from home later that night. However, tragedy strikes when a fire breaks out at the house and traps Sedes. Aura and Jodie returns to the house to save their older sister.
In the end, love for one another still triumphs as the siblings reconcile with one another. Sedes apologizes for being too overprotective and promises to change her ways.
Cast
Main cast
Maricel Soriano as Sedes
Keempee de Leon as Ebber
Pia Guanio as Aura
Isabelle Daza as Jodie
Supporting cast
Allan Paule as Arnulfo
BJ Forbes as Gello
Accolades
Year
Category
Nominated Work/Artist
Result
2014
Best Story
"Kulungan Kanlungan"
Nominated
Best Actor
Keempee de Leon
Nominated
Best Actress
Isabelle Daza
Won
Pia Guanio
Nominated
Gawad Tanglaw Awards
| Year | Category | Nominated Artist | Result |
| --- | --- | --- | --- |
| 2015 | Best Single Performance by an Actor | Keempee de Leon | Won |
Full episode
The two Holy Tuesday episodes are included in the following video. The first half of the video features the "Hakbang sa Pangarap" episode. The second half features the "Kulungan Kanlungan" episode, which begins at 58:44.
Community content is available under
CC-BY-SA
unless otherwise noted.