"Lukso ng Dugo" is the second Holy Monday episode of the 2015 edition of the annual drama anthology Eat Bulaga's Lenten Special. It succeeds the episode "Anyo ng Pag-Ibig" in the Monday lineup. The episode aired on 30 March 2015 with a total runtime of 68 minutes.
Each year, the anthology replaces the noontime show's regular programming in observance of the solemnity of Holy Week. Standalone episodes of short dramas are shown from Holy Monday to Holy Wednesday, with each episode having different characters, story, and director.
It is topbilled by Ryzza Mae Dizon and Aiza Seguerra. Supporting cast includes Ricky Davao, Julia Clarete, and Pia Guanio.
The episode is directed by Gina Alajar.



Plot
Alex (Aiza Seguerra) and Micah (Ryzza Mae Dizon) are inseparable sisters who were adopted by their Aunt Mildred (Pia Guanio) after the death their mother and incarceration of their father. Growing up reared by an abusive stepfather, Alex has learned to fight back against their uncle's bullying ways. She also encourages her submissive aunt to escape from the abusive behavior of his alcoholic husband. However, Mildred refuses.
Living in the slums, Mildred is informed by her neighbors that their neighborhood is due for imminent demolition. With no more home, they are forced to live on the streets. To ease the burden, Ronnie suggests that the two sisters stay with a strict aunt, Ditas (Julia Clarete), in the province. Frightened by the suggestion, Micah makes her sister promise not to bring her there no matter what happens. Alex asserts that they will remain inseparable. However, Alex changes her mind after Micah encounters an armed criminal in the middle of the night. Alex breaks her promise to keep her younger sister off the dangerous streets of Manila.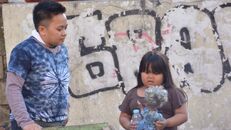 In the province, Ditas takes in her niece yet treats her as a servant who is expected to keep the house clean and organized everyday. She is easily gets angered by Micah's childlike and unsophisticated actions, scolding her over every faults and slow reactionss. One day, Ditas notices her stashed money has gone missing and instantly accuses Micah as the thief, furiously locking her niece inside the bedroom. Right after her frenzy, Ditas discovers the money and realizes her mistake. She apologizes to Micah.
Ditas gets into an accident and is rushed to the hospital. Upon returning home, she is welcomed by a caring and concerned Micah. Ditas begins to appreciate the love of her niece and promises to change her ways.
Mildred and Alex travel to the province to surprise Micah on her birthday. They decide to stay in the province for good together with Aunt Ditas as a family.
Cast
Main cast
Ryzza Mae Dizon as Micah
Aiza Seguerra as Alex
Supporting cast
Ricky Davao as Ronnie
Pia Guanio as Mildred
Julia Clarete as Ditas
Accolades
Year
Category
Nominated Work/Artist
Result
2015
Best Story
"Lukso ng Dugo"
Nominated
Best Actress
Aiza Seguerra
Won
Ryzza Mae Dizon
Nominated
Pia Guanio
Nominated
Trivia
"Lukso ng Dugo" was replayed in full on Monday, 13 April 2020. Due to the COVID-19 pandemic that resulted in the suspension of all live shows, Eat Bulaga! opted to replay throwback videos of some of its most iconic segments and other special presentations from way back in the past.
Community content is available under
CC-BY-SA
unless otherwise noted.