Mr. Macho (colloquially referred to as Macho Man) is one of the first dance contests created by Eat Bulaga! during the 1980s. Male contestants must perform to the 1978 song "Macho Man" by the American disco group Village People. It is a sponsored segment intended to promote the 1980 American musical comedy film Can't Stop the Music as well as to hype up the Village People's concert then in Manila. 
The introduction of the Mr. Macho segment saved Eat Bulaga! from getting cancelled after suffering a year of low ratings against Student Canteen. After becoming a popular segment, Eat Bulaga! won the ratings game for the first time, gaining 31% against Student Canteen's 29% during the month of the segment's debut.
The segment is strongly associated with its modern reincarnation Macho Men.
Albert Agoncillo was declared as the first-ever grand winner of Mr. Macho. In 2019, his son Mike Agoncillo joined the segment Pa-Macho Men 39 years later.






Overview
Edit
An
excerpt from an article
written by Tina Arceo-Dumlao of Inquirer.net provides detail to the segment's historical significance for the noontime show.
Tony Tuviera thought then that if TAPE Inc. was not making any breakthrough using the ideas that they all thought internally were game changers, then perhaps it was time to look outside for fresh concepts, specifically, show business veteran Oskee Salazar.
"I needed to get an idea of what was happening outside, and so I asked Oskee, who was a good friend, what are the popular trends? Maybe I don't know them myself. He said, 'male dancers,' and even asked me if I wanted to go with him and see them for myself. I told him I already had a lot of
problems. But he pressed on and suggested that we consider the idea," shares Tuviera.
Fortuitously, there was a movie that was going to be promoted called "You Can't Stop the Music" featuring the Village People, with its classic hit, "Macho Man." That gave Tuviera the reason to gamble on Salazar's idea of featuring dancing muscular, sexy men.
In 1980, the "Mr. Macho" contest featuring men in different costumes and showcasing their own moves caught the public by storm such that in just one and a half months, "Eat Bulaga!" overtook "Student Canteen"—31 percent for "Eat Bulaga!" and 29 percent for "Student Canteen"—thus preventing the show from being axed.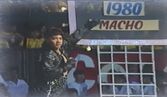 "Thank God for the Village People and Oskee Salazar," says Tuviera with a laugh.
Community content is available under
CC-BY-SA
unless otherwise noted.