Pamilyang Pinoy Henyo Nationwide (originally Pamilyang Pinoy Henyo) is an edition of the segment Pinoy Henyo that premiered on 5 August 2013 and continued until 10 February 2014. It is the third edition of the Pamilyang Pinoy Henyo series of the segment.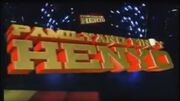 Thousands of families face each other in the daily elimination round of the competition. The daily round of this edition follows the regular format and rules of the original
Pinoy Henyo
. There are three pairs who must each correctly guess a word in order to win a cash prize. The pair who correctly guesses the word with the fastest time advances to the jackpot round. In the jackpot round, the winning pair must take turns to correctly guess any three of the ten words provided in under three minutes. The daily winners then advance to the monthly finals of the competition.
In the monthly finals, pairs are given different sets of ten words that can come from any categories. Players must guess as much words as they can within three minutes. Pairs can opt to pass, but they cannot return to those skipped words. Whichever pair guesses the most words with the fastest time wins the game. There are a total of five monthly finals and one wildcard round. The winners of the monthly finals and the wildcard round advance to the grand finals of the tournament.
The grand finals follows the same format as the previous monthly finals, except this time, every pair receives the same set of ten words. Players must take turns to guess as much words as they can in order to win the game. The pair with the most words guessed wins the game. In case of a tie in the number of words, the time when the first word is guessed will be the deciding factor of the winner. Whichever pair guesses the first word the fastest ultimately wins the game.    
The family clans who competed in the grand finals were the Tibays, the Pelipases, the Baldeos, the Lopezes, the Tarcenas, and the Puyoses.
Ryan Tibay and Noemi Tibay of Lahug, Cebu City were the winners of the competition after guessing all ten words within 2 minutes 11 seconds. They received a trophy and ₱500,000 in cash prize.
Grand Finals
Pair
Clan
Origin
Words
Time
Time of First Word
Ryan Tibay
Noemi Tibay
Tibay Family
Lahug, Cebu City
10
2:11.75
0:05.34
Janica Pelipas
Juliet Pelipas
Pelipas Family
Diliman, Quezon City
10
2.33.78
0:09.53
Janine Baldeo
Jenny Baldeo
Baldeo Family
Balanga, Bataan
8
2:57.84
0:39.71
Jorenz Lopez
Melissa Lopez
Lopez Family
Balagtas, Bulacan
9
2:35.90
0:12.34
Jillian Tarcena
Pia Tarcena
Tarcena Family
Occidental Mindoro
5
2:44.53
1:01.09
Jennifer Puyos
Theresa Puyos
Puyos Family
San Narciso, Quezon
5
1:55.62
0:29.46
Community content is available under
CC-BY-SA
unless otherwise noted.