"Pangalawang Bukas" is the second Holy Wednesday episode of the 2014 edition of the annual drama anthology Eat Bulaga's Lenten Special. It succeeds the episode "Anyo ng Pag-Ibig" in the Wednesday lineup. The episode aired on 16 April 2014 with a total runtime of 66 minutes.
Each year, the anthology replaces the noontime show's regular programming in observance of the solemnity of Holy Week. Standalone episodes of short dramas are shown from Holy Monday to Holy Wednesday, with each episode having different characters, story, and director.
It is topbilled by Vic Sotto, Jose Manalo, Anjo Yllana, and Ryzza Mae Dizon.
Supporting cast includes Erika Padilla, Menggie Cobarrubias, Tessie Villarama, and Elias Salvador.
The episode is directed by Bibeth Orteza.



Plot
Fr. Vic Reyes (Vic Sotto) is an ambitious priest who dreams of becoming a monsignor. In order to get noticed, he is obsessed with maintaining the cleanliness of his church as his advocacy. Unfortunately, he also turns away disabled and homeless people just to maintain his church surroundings clean.
Alex (Jose Manalo) is a former singer of the church whose wife leaves him after he completely loses his eyesight. Their daughter Angel (Ryzza Mae Dizon) is left under his care as well. With no job and on the verge of being evicted from their apartment, Alex is forced to become a busker by performing on the streets to earn a living.
Minggoy (Anjo Yllana), meanwhile, is a former successful talent manager who loses his job after being accused of embezzlement. Desperate, he tries to steal Alex's earnings from busking, but begins to show interest in his voice after hearing his performance. Minggoy pays for Alex's rent and offers to become his manager. Afraid of Minggoy's real intentions, Alex rejects the offer.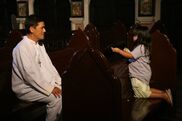 Minggoy, Alex, and his daughter return to the church where Alex used to perform, in hopes that Fr. Vic recognizes him and offers to help their family. Instead, he is faced by church staff who demands him to leave the area immediately. Alex refuses. Meanwhile, Angel sneaks inside the church who observes Fr. Vic praying alone and asking for a sign if his attitude toward the homeless is appropriate. Fr. Vic opens his eyes and is surprised to see a young Angel beside him.
While Alex is frantically searching for his daughter, Minggoy sneaks inside the church and steals some of the valuable items around the office. He runs away but bumps into Alex and drops his bag, revealing all of the items he stole. The church staff identifies them as thieves and even accuses Alex's daughter as an accomplice. However, Fr. Vic recognizes Alex and defends him from the accusers. He invites Alex and Minggoy to share and make the parish understand their stories.
After hearing the stories, Fr. Vic vows to start helping the less fortunate instead.
Cast
Main cast
Vic Sotto as Fr. Vic Reyes
Jose Manalo as Alex
Ryzza Mae Dizon as Angel
Supporting cast
Anjo Yllana as Domingo "Minggoy" Suarez
Erika Padilla as Lenny
Menggie Cobarrubias as Ernie
Tessie Villarama as Caring
Also starring
Elias Salvador as neighbor
Accolades
Year
Category
Nominated Work/Artist
Result
2014
Best Story
"Pangalawang Bukas"
Won
Best Actor
Jose Manalo
Won
Best Supporting Role
Anjo Yllana
Nominated
Best Child Performer
Ryzza Mae Dizon
Won
PMPC Star Awards for Television
| Year | Category | Nominated Artist | Result |
| --- | --- | --- | --- |
| 2014 | Best Single Performance by an Actor | Jose Manalo | Won |
Full episode
The two Holy Wednesday episodes are included in the following video along with The Ryzza Mae Show episode that precedes them. The first part of the video is The Ryzza Mae Show episode featuring interviews with the Lenten Special cast members. It is followed by "Anyo ng Pag-Ibig", which begins at 42:00. The final part is "Pangalawang Bukas" starting at 1:45:33.
Community content is available under
CC-BY-SA
unless otherwise noted.