Quiz Vee: Thank You for that Wonderful Question! (formerly Quiz Vee: Best of the Besh) is a quiz segment for trans women and gay individuals that tests contestants on a wide variety of trivial and academic questions. July 3 2017
The segment is primarily hosted by Luane Dy and Ryan Agoncillo. Meanwhile, the regular Mother Geese of the segment are gay comedians Teri Onor and Boobay. In days when any of the regular Mother Geese is absent, Eat Bulaga! host Sinon Loresca acts as the substitute Mother Goose for the day.
The background dancers of the segment are provided by the Mandaluyong-based club theater-restaurant Club Mwah!.
Overview
Edit
In the segment, there are two teams of two players each. Each team is led by two gay celebrities who are regular guests of the segment. Each celebrity leader is called "Mother Goose".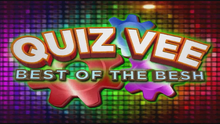 There are a total of seven rounds. For each round, a representative from one team is pitted against a representative from the other team. The host provides a specific category where the question will be based on. Each player has a signaling device, also called a buzzer, to signal in at any time during the question to give an answer.
The first player who presses the buzzer must provide a response to the question in order to be awarded a point. Failure to provide a correct answer or to answer within the time limit gives the other player an opportunity to respond. The first team who gains three points wins and advances to the jackpot round.
In the jackpot round, the Mother Goose must select only one player who will play the final game. The chosen player must then choose one of the three four-letter words in which the questions will be based on.
To start the round, the player is asked a series of four questions in rapid fire fashion and must answer all of them within sixty seconds. The first letter of each of the four answers that the player provides must correspond to the four letters of the chosen word. For each letter, the player is given two tries. The clock does not start until after the first question is asked. If the player passes on the two tries for any of the letter of the first word, the player must choose another word. The timer does not stop and no additional time is added if the player moves on to the second or third words.
If the player answers all four questions, then the team wins the jackpot prize.
Community content is available under
CC-BY-SA
unless otherwise noted.