Rush 4 Win Philippines: Slippery Stairs is a game segment based on the Slippery Stairs game from the Japanese variety show All-Star Kanshasai. It is a subsegment of Juan for All, All for Juan: Bayanihan of d' Pipol.
The concept was franchised by TAPE Inc. for Eat Bulaga!, and distributed by Tokyo Broadcasting System Television, Inc..
Overview
Edit
Each game has two or three rounds. The contestants are wearing multicolored skintight body suits all trying to climb a slippery staircase for 5 minutes. The contestants must first apply a slippery substance throughout their body and roll on the floor for spreading the slippery substance before starting the game. The slippery staircase also includes obstacles such as releasing of smoke and slime. The contestants must climb the staircase by crawling and must avoid standing and kneeling to avoid a violation or a foul. If a contestant has accumulated a total of three fouls, the contestant will be disqualified in the game. A winner is declared when a player gets the flag from the peak of the stairs.
Normally, full and unedited videos of the show's segments are uploaded on Eat Bulaga's official YouTube channel and Facebook page. However, due to a licensing agreement regarding its franchised segment, only highlights of the episodes are published by the show.
At the studio, several studio audiences, called the Rushers, can choose their preferred contestants by forming a queue on each of the six colors that their preferred contestants are wearing. If their preferred contestant manages to win the game, all the Rushers who formed a queue on the winning contestant will win ten thousand pesos, in which the cash prize will be divided depending on the number of Rushers who formed the queue.
Challenges and Game Twist
Edit
In August 31, 2019, a new twist was added to the game.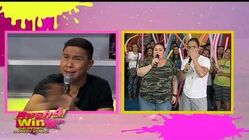 The hosts will provide a mathemical equation. There are three flags will be provided for the game containing choices from the given mathematical equation, in which only one flag has the correct answer. The rushers must get the flag with the correct answer to win.

Related Videos:
Community content is available under
CC-BY-SA
unless otherwise noted.