"Sa Tamang Panahon" is the commercial-free special presentation of Eat Bulaga! that marked the climactic episode of Kalyeserye held at the Philippine Arena on 24 October 2015.
The historic event featured the much-awaited unrestricted meeting of Alden Richards and Maine Mendoza—collectively known as AlDub—after receiving the hard-earned blessing of Wally Bayola's Lola Nidora. The Kalyeserye moment is considered to be the biggest event from the show since its Eat Bulaga! Silver Special in 2005.[1]
Avid fans filled the Philippine Arena, the world's largest indoor arena, after selling out all 55,000 seats after three days of being made available for sale. Proceeds were used to help people affected by Typhoon Lando and to build school libraries across the Philippines as part of the AlDub Library Project.[2]
According AGB Nielsen, the episode garnered a 50.8% rating in Mega Manila, the highest rating for a single episode in 2015.[3] The event's official Twitter hashtag, #AlDubEBTamangPanahon, was recognized by the Guinness World Records as the most used hashtag in 24 hours after amassing more than 40 million tweets.[4]
Background and production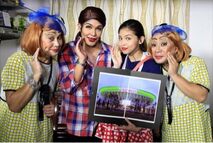 Kalyeserye originated from an unintentional moment on 16 July 2015 in the segment Problem Solving. While playing the role of the grumpy Yaya Dub, Maine Mendoza was unable to contain her "kilig" after noticing that Eat Bulaga! host Alden Richards was watching one of her dubsmashes on air. Gradually, Problem Solving evolved into an improvised teleserye after producers sensed an organic love story and began to incorporate the new love team's budding romance into the show's daily storyline. The segment was eventually retitled Kalyeserye, a term coined by Joey de Leon.[5]  
Wally Bayola's character, Lola Nidora, served as the antagonist of the story after witnessing the swiftly growing relationship between AlDub. The conservative Lola Nidora began to devise ways to keep the two apart, believing that the "tamang panahon" to take their relationship forward has not yet been earned. Alden was given several challenges and obstacles to prove himself as a worthy suitor of Yaya Dub through the traditional ways of courtship, which required hard work, commitment, and perseverance. 
On 17 October 2015, Lola Nidora announced that AlDub will finally get its long-awaited "tamang panahon" after Alden successfully completed all of her challenges. She scheduled the event to be held the following Saturday on 24 October 2015 at their humble bungalow, the 55,000-seater Philippine Arena.[6]
The tickets to the event, with prices ranging from ₱150 to ₱1,200, were available for purchase online, by phone or at TicketWorld outlets in National Bookstore, Robinsons Department Store, Ayala Malls, Eastwood Mall, and Resorts World Manila. On the day of the announcement, tickets could also be purchased at the Broadway Centrum for a limited time.

Three hours later, TicketWorld said that ticket sales broke its records for first-day sales and the only available tickets were for the Level 4 prize zone. The remaining tickets were sold out two days later.
[7]
Eat Bulaga! chartered buses to transport those with tickets from Metro Manila to the Philippine Arena free of charge. Two trips at 6 AM and 7 AM were made on Saturday from designated pickup points at the Broadway Centrum, First North Luzon Bus Garage in Cubao, and C-4 Centennial Park in Navotas City.[8]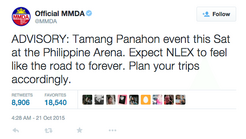 In preparation for the anticipated traffic congestion leading up to the big event, the Metro Manila Development Authority (MMDA) released a Kalyeserye-inspired travel advisory for motorists to expect the North Luzon Expressway (NLEx) to feel like "the road to forever" due to heavy traffic. The agency also deployed an additional of 160 traffic enforcers along the Balintawak and Mindanao Avenue in Quezon City to help in the traffic management for the entry and exit points to NLEx. Counterflow lanes were also placed at the southbound lane of NLEx to be opened during traffic buildups.[9]
Pre-show
On 24 October 2015, the doors of the Philippine Arena were opened to the public as early as 6:00 AM. Community watch parties were hosted at local sports complexes, school gymnasiums, and covered courts in various barangays across the Philippines with huge crowds watching the historic event on giant monitor screens.
The Philippine Arena attendees were treated to an untelevised pre-show that started at 10:00 AM. It was primarily hosted by Sunday PinaSaya stars Jerald Napoles and Valeen Montenegro, accompanied by three jesters who went by the aliases of Lola Chiquita, Lola Paquita, and Lola Monita. A few lucky fans from the audience got to participate in some pre-show trivia games and other activities for a chance to win special prizes.
Main event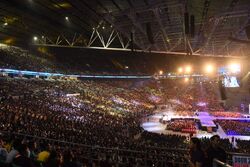 The live telecast of the main event began at 11:30 AM. It lasted for more than three hours with no commercial breaks until its conclusion at 3:00 PM.
The show began with a VTR of Lola Nidora entering the premises of the Philippine Arena via helicopter. Together with her Rogelios, she danced to the tune of Dawin's "Dessert" while making her way to the stage. She was joined by her sisters, Lola Tidora and Lola Tinidora, who danced their way to each of their trademark entrance songs.
The next dance number was performed by Pauleen Luna, Patricia Tumulak and Julia Clarete. In their The Great Gatsby-inspired performance, they played the younger versions of Lola Nidora, Lola Tidora and Lola Tinidora. Guest celebrity singers then performed several love songs that were frequently used for the couple's dubsmashes on Kalyeserye. Those singers were Raymund Sarangay of Silent Sanctuary who sang "Sa'yo," Medwin Marfil of True Faith who sang "Dahil Ikaw", Jireh Lim who sang "Buko", and Joey Generoso of Side A who sang "Forevermore". Tito Sotto, Vic Sotto, and Joey de Leon also performed Ronnie Liang's 2014 hit "Ngiti".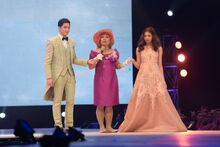 Maine Mendoza's Yaya Dub made her first appearance by entering the arena while hanging off the back of a jeepney–a callback to an older episode where she hurriedly left Broadway Centrum after her performance on Bulaga Pa More!: Dabarkads Pa More!. She was accompanied by a group of dancers to dance to Big Bang's "Fantastic Baby".
On a more personal note, Lola Nidora fondly talked to the audience about the real Maine Mendoza and her phenomenal rise to fame. A VTR featured interviews from Maine's friends and family to give viewers a look into Maine's life as a sometimes shy, but lively and exuberant regular woman. After that came a romantic dance number from Maine, set to an instrumental version of Selena's "Dreaming of You".
After the performance, a montage of AlDub footage played and the cameras cut to a dressed-up Alden Richards making his way into the building. Tension built as scenes from their previous milestone moments were shown. Alden finally reached the main arena and came face-to-face with Yaya Dub. The couple stood on the same stage in front of an emotional crowd. Suddenly, Lola Nidora appeared onstage to give her blessing and the three broke into a group hug, which brought the Philippine Arena down in tears and cheers.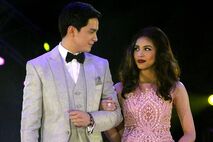 Set against the backdrop of brightly lit lanterns, Alden sang the now-iconic theme song of AlDub—"God Gave Me You". The pair fought back tears as they shared a hug, a dance, and gave heartfelt messages to each other and to the AlDub Nation.
Lola Nidora said that she wished Alden and Maine would take time to get to truly know each other. She asked them not to betray the trust given to them. With that, Alden and Yaya Dub formed a heart with their hands, then pinky swore.
The show ended with a dance number featuring Yaya Dub, Alden, and the rest of the show's hosts. Alden teared up at the end of the presentation when he and Maine thanked those behind Eat Bulaga! as well as their love team's avid fandom.
Cast
Kalyeserye main cast
Maine Mendoza
Jose Manalo

Alden Richards
Paolo Ballesteros
Present Eat Bulaga! hosts
Tito Sotto
Ryan Agoncillo
Pauleen Luna
Patricia Tumulak
Baste Granfon

Vic Sotto
Allan K
Ryzza Mae Dizon
Ruby Rodriguez

Joey de Leon
Jimmy Santos
Anjo Yllana
Julia Clarete
Guest performers
Raymund Sarangay
Joey Generoso
Dancers
Addlib
Team Rapa
CCP Bobcats

G-Force Stallions
Philippine Island Assassin
JRU Cheer Explosives
Pre-show hosts
Jerald Napoles
Lola Paquita

Valeen Montenegro
Lola Monita
Fundraising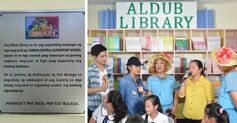 The event raised more than ₱14 million from ticket sales, all of which were used to provide much-needed relief for the victims of Typhoon Lando as well as to construct a network of libraries in public schools across the country as part of the AlDub Library Project.[2]
Those who were not able to buy tickets and attend the event were given the opportunity to donate money to a Banco de Oro account specifically created for the library project.
Tickets were already sold out after three days of the announcement of its availability according to TicketWorld, the handler for selling the tickets of the event. A total of ten schools in Camarines Sur, Davao City, Puerto Princesa, Laguna, Zambales, Capiz, Pangasinan, Iligan City, Cebu City, and Eastern Samar benefited from the project.
Reception
Ratings
According to AGB Nielsen, Eat Bulaga!'s "Sa Tamang Panahon" emerged as the most-watched television program on 24 October 2015 after garnering a 50.8% rating in Mega Manila. For the first time, Eat Bulaga! was able to breach the 50% mark after gaining the all-time highest rating in the show's history. The special event claimed the distinction of being the highest-rated single episode on Philippine television for 2015.
On the other hand, noontime rival It's Showtime, which was celebrating its 6th anniversary, registered a TV rating of only 5.4% in Mega Manila. This represents a 45-point gap between the two noontime shows.
According to Kantar Media/TNS, Eat Bulaga! was able to get four times the rating of It's Showtime on 24 October 2015 in nationwide ratings. Eat Bulaga! topped the chart that day with its national rating of 40.1%. It was also the highest-rated daytime show on Philippine television for 2015. Meanwhile, It's Showtime got a national rating of 10.2% and failed to even enter the Top 20 most-watched programs on 24 October 2015.[3]


Accolades and recognitions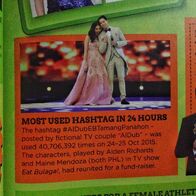 Guinness World Records
recognized the event's official hashtag, #AlDubEBTamangPanahon, as the most used hashtag on Twitter within 24 hours after generating 40,706,392 tweets, smashing the previous record held by
Brazil's 2014 FIFA World Cup defeat to Germany
. The AlDub feat was first published on March 2016 as one of the five key tweets and hashtags that made significant world-record achievements in Twitter's history.
[4]
AlDub secured their Guinness title for more than 3 years until K-pop fans defeated the record by gathering more than 60 million tweets with their hashtag #TwitterBestFandom during the
14th Annual Soompi Awards
on March 2019.
International news sites, such as BBC News and Bloomberg News, also took notice of the record-breaking global twitterstorm by calling AlDub as "a social media phenomenon about love and lip-synching".[10]
"Sa Tamang Panahon" received a special citation at the 2016 Box Office Entertainment Awards as the Highest Record Rating of a Noontime Show of All Time (Local & Global). The cast members of Kalyeserye also received numerous awards and recognition from various local award-giving bodies. On December 2015, Jose Manalo, Wally Bayola, Paolo Ballesteros, Alden Richards, and Maine Mendoza received stars on the Eastwood City Walk of Fame for their roles in Kalyeserye.
The event was also featured in a special collector's edition of the December 2015 issue of Yes! magazine.
Trivia
"Sa Tamang Panahon" was held on the same day as the birthday of Pia Guanio, who was noticeably absent from the event. She was on her birthday vacation in Japan with her family. She planned the vacation months earlier and didn't have any idea that there was going to be a "Sa Tamang Panahon" event. Their Japan trip couldn't be cancelled or postponed.[11]
Maine Mendoza's pink gown became the subject of a controversy after fans noticed that her stylist, Liz Uy, selected a "recycled" Francis Libiran-dress that was already worn by actress Kim Chiu for a fashion show held in 2013. Fans hounded the stylist who were wondering why Maine didn't have her own custom-made dress for the event. Both Francis Libiran and Kim Chiu also spoke up about the gown issue by expressing that "a gown is just a gown".[12]
The historic Eat Bulaga! event coincided with the 6th anniversary celebration of its noontime rival, It's Showtime. Vice Ganda acknowledged their rival's event and conceded their defeat in the ratings game, admitting that they never had any intention of beating Eat Bulaga! since day one.
This event was also the first live stream video of Eat Bulaga!'s official YouTube page which currently has 4.9 million views. The live stream video also includes the pre-show event.
As part of Eat Bulaga!'s year-end special in 2015, "Sa Tamang Panahon" was re-aired again on television as a two-part episode on 30–31 December 2015.
Selected portions of the episode were re-aired on Thursday, 2 April 2020, and Saturday, 30 May 2020. Due to the COVID-19 pandemic that resulted in the suspension of all live shows, Eat Bulaga! opted to replay throwback videos of some of its most iconic segments and other special presentations from way back in the past.
References
Community content is available under
CC-BY-SA
unless otherwise noted.