TVJ is the initialism of the comedy trio composed of Tito Sotto, Vic Sotto, and Joey de Leon. The trio has been active in the Philippine entertainment industry since 1972[1], and is best remembered for their multimedia comedy ventures in music, film, and television. Their hallmark styles are slapstick comedy, parodies, observational comedy, wordplays, and pop culture commentary. Early film posters and album covers often credit the trio as Tito, Vic & Joey and not by the initialism.
The trio can be traced back to the early 1970s when musicians Tito Sotto and Vic Sotto joined radio disc jockey Joey de Leon in the cast of IBC-13's gag show Okay Lang.[2] With matching wits and personalities, Tito, Vic, and Joey became a comedy trio over time, eventually appearing as regular co-hosts of Discorama. There, the newly-formed group began to host a comedy newscast segment known as Tough Hits interspersed with hilarious interpretations of top hit songs using made-up lyrics. The trio was also invited as pinch-hitters on Student Canteen.[3]
Although Discorama and Student Canteen were responsible for catapulting the hilarious antics of TVJ, it was the comedy sitcom Iskul Bukol that gave them nationwide fame as comedians.[4] First aired in 1978, Iskul Bukol resulted to more television and film producers to come knocking on the group's door, including an offer from Tony Tuviera to host a new noontime show for RPN-9.[5] After some negotiations, the trio accepted. Tito, Vic, and Joey began hosting Eat Bulaga! on 30 July 1979.[6]
Four decades later, TVJ continues to host Eat Bulaga!, becoming the longest-serving co-hosts of the noontime variety program. Vic and Joey still serve as regular co-hosts of the program's various segments, while Tito only appear occasionally after deciding to venture into politics.[7]
Tito, Vic, and Joey are celebrating their 50th anniversary as a trio in 2022.[8]
Members

Vicente Castelo Sotto III (born 24 August 1948) is a Filipino television host, musician, actor, comedian, sportsman, and politician. He is currently serving as the President of the Senate of the Philippines since 2018.[9]
Tito Sen is a highly respected figure on Eat Bulaga!, especially due to his position in the Philippine Senate and his notability as one of the original hosts of the noontime show. In many instances, Tito has used Eat Bulaga! as a platform to notify the public of the latest legislative actions that are relevant to the common people. Therefore, he has earned the nickname "Tito Sen" and has been promoted by his fellow Dabarkads as the "Senador ng Pamilyang Pilipino".[7]


Marvic Castelo Sotto (born 28 April 1954) is a Filipino television host, actor, comedian, musician, and film producer. He is well-known for his various television and film projects for most of the major Philippine television networks.[10]
Vic Sotto is undeniably considered as the heart of Eat Bulaga!, widely appealing to the young and the elderly demographic alike. As one of the respected pillars of the noontime show as well one the country's most popular and timeless film and television stars, Vic has earned the moniker "Bossing" of the Philippine entertainment industry.[11]


Jose Maria Ramos de Leon Jr. (born 14 October 1946) is a Filipino television host, musician, comedian, actor, newspaper columnist, writer, and radio disc jockey.
Among the TVJ, Joey is known for his wit, dirty jokes, sarcasm, and impersonations. He is also one of the most prolific writers in the multimedia industry, penning a number of hit songs that many now consider as OPM classics, notably Cinderella's "Ang Boyfriend Kong Baduy" and VST & Company's "Ipagpatawad Mo" and "Awitin Mo at Isasayaw Ko".[12] He also writes columns for The Philippine Star and formerly Manila Bulletin. His creative mind is able to coin words that stir funny thoughts, coming up with the titles of various segments as well the title of the noontime show itself, thus earning him the nickname "Henyo Master" of the Philippine entertainment industry.[13]

History
Formation of TVJ in Okay Lang (1972–1974)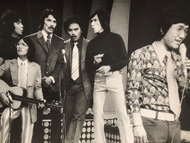 Following the declaration of martial law by President Ferdinand Marcos in 1972, Joey de Leon lost his job as a radio disc jockey after ABS-CBN was seized by the government and its broadcast operations were all shut down.[14] However, Joey's verbal communication and radio presenting skills proved invaluable as he was invited to join the cast of the weekly gag show Okay Lang on IBC-13, once the biggest television network in the Philippines.[15] Among the cast members were Danny Javier, Jim Paredes, and Boboy Garrovillo, which would later become TVJ's television rival APO Hiking Society.[2]
At the same time, Tito and Vic joined their brother Val Sotto who was already a cast member of Okay Lang. Tito and Joey have already met each other when Tito's band guested on Joey's radio program during one the group's radio tours. However, this was the first time Vic and Joey met one another.[1]
The cast members of Okay Lang were separated into different teams that were tasked of creating their own visual gags and comedy sketches. Vic and Joey were paired together, while Tito was paired with another cast member Ricky Manalo.[1] Despite being split up, Tito, Vic, and Joey gradually developed a solid friendship during their time at the show.


Discorama, Student Canteen, and Iskul Bukol (1975–1978)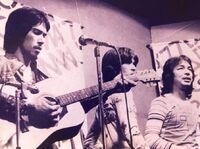 In 1975, Okay Lang ended its run after IBC-13 changed its ownership. Bobby Ledesma, the main host of GMA-7's Discorama, immediately took interest in Joey to join his afternoon variety show which, at the time, was suffering from low ratings.[3]
While Bobby went on vacation abroad, he asked Joey to take care of the show and to look for another co-host. Joey then invited his former Okay Lang co-stars, Tito, Val, and Vic, to join him at Discorama. Only two of the three Sotto brothers, Tito and Vic, accepted Joey's invitation.[1] Combining their wits together, the trio further gained popularity in their new segment Tough Hits where they parodied various Top 40 hit songs using made-up lyrics that were mostly written by Joey. The segment was so well-received by local viewers that GMA-7 decided not to cancel Discorama.[3]
The trio was soon asked to become pinch-hitters for GMA-7's noontime show Student Canteen. There, they also released albums based on their Tough Hits segment from Discorama.

At this time, further opportunities were knocking on their door. In 1978, the trio was offered to star in IBC-13's comedy sitcom, Iskul Bukol, where Tito and Joey became the Escalera brothers engaged in never-ending schemes to outwit their classmates, one of whom was the provincial hick Victorio Ungasis (played by Vic) and their professor Miss Tapia (Mely Tagasa).[4] The sitcom was produced by Boy Gatus' Our Own Little Way Productions.[3]


Birth of Eat... Bulaga! (1979–1980)
Tito, Vic, and Joey also received multiple offers from different production companies of hosting new noontime shows that would have been pitted against Student Canteen which, at that time, reigned supreme in the noontime slot.[16] The trio initially did not accept any of the offers, but rumors reached Discorama's host Bobby Ledesma as well as Student Canteen's production company Program Philippines, Inc. (PPI).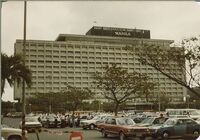 Unfortunately, Bobby reacted rather violently to the news that Tito, Vic, and Joey were being pirated by another production outfit. After condescending remarks from the Discorama main host, Tito, Vic, and Joey refused to continue their hosting stint on the show. In response, Bobby impulsively dismissed the trio from Discorama without any formality.[17] Program Philippines, Inc. also decided to remove TVJ from Student Canteen and replace them with their rival trio, APO Hiking Society.[1]
After their dismissal from Discorama and Student Canteen, TVJ was free to accept the different offers that they received. They set up a meeting at the parking lot of InterContinental Manila hotel with two interested producers, Tony Tuviera of Production Specialists, Inc. and Boy Gatus of Our Own Little Way Productions.[17] Whoever arrived first would be the offer that the trio accepts. Since Tony arrived 30 minutes earlier than Boy Gatus, TVJ accepted his offer.[1]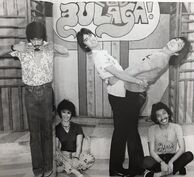 Eat Bulaga! was finally launched on 30 July 1979 on RPN-9.[6] Tito, Vic, and Joey were joined by Chiqui Hollman and Richie d'Horsie to pioneer the noontime program. Joey came up with the title of the new show: "Eat" represents lunchtime while "Bulaga" signifies their plan to fill the show with big surprises.[17]
During its first few months on the air, the show was in danger of cancellation. Not only did it face competition against the longest-running noontime show at that time, Student Canteen, it also lacked advertisers, despite having their advertising rates reduced to ₱750. In addition, TVJ did not receive their salaries for six months.[18]
In time, Eat...Bulaga! slowly gained top-rating status in 1980 after the introduction of the segment Mr. Macho, finally beating Student Canteen.[19]


Venturing into the world of cinema (1980–1991)
After their television success, the trio began to star in various films throughout the 1980s. In a span of a decade, Tito, Vic, and Joey have starred in more than 30 movies, including Mang Kepweng (1979), Rock, Baby! Rock! (1979), Mr. One-Two-Three (1980), Tartan (1981), Bilibid Gays (1981), Si Ako at Ang Tres Moskiteros (1982), Tatlo Silang Tatay Ko (1982), Give Me Five! (1984), Super Wan-Tu-Tri (1985), I Have Three Hands (1985), Ma'am May We Go Out? (1985), Working Boys (1986), Horsey-Horsey Tigidig-Tigidig (1986), Ready!.. Aim!.. Fire!.. (1987), Fly Me to the Moon (1988), Kabayo Kids (1990), and I Have 3 Eggs (1990).
The success of the television sitcom Iskul Bukol also spawned four films that further expanded the franchise, which were Iskul Bukol: The Movie (1978), Iskul Bukol: Freshmen (1980), Iskul Bukol 2: Sophomore (1981), and The Best of Iskul Bukol: The Movie (1987). The original sitcom ended its run in 1988.[4]
The trio then received their own gag show titled TVJ: Television's Jesters on IBC-13, which ran from 1989 to 1992, and a subsequent show on ABC-5 similarly titled TVJ on 5 in 1992.[20]
In addition to their joint ventures, Tito, Vic, and Joey also found individual successes. Right as Iskul Bukol was about to end, Vic was cast to portray his most famous character, Enteng Kabisote, in the fantasy sitcom Okay Ka, Fairy Ko!.[21] On the other hand, Joey's various comedy films were also well-received by the audience as he portrayed characters like She-Man of Sheman: Mistress of the Universe (1988) and Starzan of Starzan: Shouting Star of the Jungle (1989). Meanwhile, Tito ventured into politics beginning in 1988 when he was elected as the vice mayor of Quezon City.[7]


Tito enters national politics (1992–2006)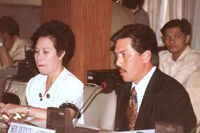 Tito was elected to the Senate of the Philippines in the 1992 senatorial election, topping the tally with nearly 12 million votes, more than 3 million more than his second place ranker.[22] Hence, Tito went on a long hiatus from Eat Bulaga! for 12 years in order to concentrate in national politics. He made brief appearances on Eat Bulaga! during special occasions, but did not fully return to the noontime program until 2004 when his Senate term ended.[7] The SexBomb version of Eat Bulaga!'s theme song in the early 2000s reflected Tito's absence from the show. It removed Tito's name from the lyrics, replacing "Sina Tito, Vic, and Joey..." with "Sina Papa Vic at Joey...".
Meanwhile, Vic and Joey continued their daily appearances on Eat Bulaga! as a duo, hosting most of its popular segments like Little Miss Philippines, Laban o Bawi, and Pinoy Henyo. Joey became known for his double entendre, risqué humor, and quick wit, while Vic earned the moniker "Bossing" because of his modest sense of humor and charisma.


Reunion on the silver screen and Juan for All, All for Juan (2007–2017)
In 2008, Tito, Vic, and Joey once again returned to the silver screen together with their comeback film titled Iskul Bukol 20 Years After: The Ungasis and Escaleras Adventure, which depicted the original Iskul Bukol characters 20 years after the end of the original television sitcom.[23] It was the fifth and final film installment to the Iskul Bukol franchise as well as the final film to feature Tito, Vic, and Joey together in the lead role. The reunion film was produced and shown as part of the 2008 Metro Manila Film Festival.[4]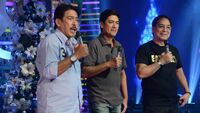 After being reelected in 2010 as a senator, Tito was able to return to Eat Bulaga!, co-hosting the noontime show from Thursday to Saturday when Senate sessions were in recess.[7] On those days, Tito, Vic, and Joey appeared together to lead the iconic segment Juan for All, All for Juan: Bayanihan of d' Pipol as studio hosts. The segment also allowed TVJ to step aside and give the noontime show's younger hosts, including a new comedy trio JoWaPao, to take the center stage. Nevertheless, TVJ became the face of the segment's public service mission to bring unscripted happiness and to provide financial aid to marginalized Filipinos who have supported Eat Bulaga! throughout the years.[24][25]


Tito's indefinite hiatus and COVID-19 pandemic (2018–present)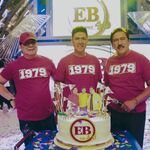 On 21 May 2018, Tito was elected as the President of the Senate of the Philippines, taking on a much more important role in Philippine politics as the second government official in the presidential line of succession.[9] As a result, he went on an indefinite hiatus from the noontime show to carry out the duties of the office. Tito still sometimes appears on the noontime show during holidays, show anniversaries, and other special occasions.[26]
Because of their age, TVJ as well as other Eat Bulaga! hosts had to transition to a work-from-home set-up in order to continue hosting Eat Bulaga! during the COVID-19 pandemic. Vic and Joey resumed their hosting duties via Zoom teleconference in June 2020[27], while Tito reunited with the other two on 30 July 2020 to virtually blow a candle in celebration of the 41st anniversary of Eat Bulaga!.[28]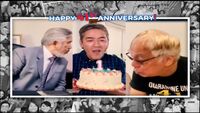 A year later, the 42nd anniversary celebration of Eat Bulaga! marked the surprise reunion and homecoming of Tito, Vic, and Joey to APT Studios since the beginning of the pandemic.[29] In 2021, TVJ then made a few more additional appearances together at the studio during the Christmas season. In 2022, the trio then marked the beginning of the new year by hosting live and in-person once again at APT Studios.
Legacy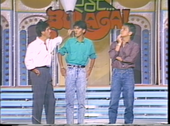 Eat Bulaga! introduced new presentational styles tailored to the engagement of audiences from the lower classes.[30] The language of Tito, Vic, and Joey was more slang-laden and their appearances were more casual than those of other noontime variety programs such as Student Canteen. The trio's style of hosting captured the lower and middle classes with use of absurdist humor, risqué terms, inside jokes, and relaxed attires. While the hosts of Student Canteen wore formal suits and dresses, TVJ appeared on television dressed down into simple t-shirts and jeans as a way to "look like their viewers".
During the martial law era, TVJ and their comedic style stood out in an entertainment landscape previously dominated by somber newscasts, quiz shows adapted from the United States, and family-oriented dramas. Eat Bulaga!'s success led to the proliferation of similar musical variety program on Philippine television.[31]
Awards and recognitions
In 2000, Tito, Vic, and Joey were honored with the Ading Fernando Lifetime Achievement Award by the PMPC Star Awards for Television for their numerous contributions to the Philippine television industry.[32] Later in 2015, the trio was also honored with the FAMAS Lifetime Achievement Award for their contributions to Philippine cinema.[33]
In 2010, Tito, Vic, and Joey were inducted into the Eastwood City Walk of Fame with their own individual stars.[34] The Eastwood City Walk of Fame is patterned after the Hollywood Walk of Fame and serves as the entertainment hall of fame of the Philippines.
References
↑ 1.0 1.1 1.2 1.3 1.4 1.5 Tito, Vic & Joey recall their road to success, 26 November 2008, Philippine Entertainment Portal.
↑ 2.0 2.1 Something safe for children to see, 29 December 2005, The Philippine Star.
↑ 3.0 3.1 3.2 3.3 Noontime shows through the years (First of Two Parts), 6 December 2001, The Philippine Star.
↑ 4.0 4.1 4.2 4.3 Tito, Vic and Joey reunite for movie 'Iskul Bukol: 20 Years After', 27 November 2008, ABS-CBN News.
↑ 'Eat Bulaga' turns 40, 27 July 2018, SunStar.
↑ 6.0 6.1 PART I Network War: from black-and-white to fireworks, 27 March 2009, Philippine Entertainment Portal.
↑ Tito, Vic & Joey 50 years na ang samahan ngayong 2022, 11 January 2022, Philippine Entertainment Portal.
↑ 9.0 9.1 Tito Sotto elected as Senate president, 21 May 2018, Rappler.
↑ Vic Sotto: Bossing!, 4 January 2020, Philippine Entertainment Portal.
↑ Vic Sotto and his Midas touch, 13 December 2014, The Manila Times.
↑ Multi-talented writer Joey de Leon turns his back on movies, 13 March 2008, Philippine Entertainment Portal.
↑ The all-around Joey de Leon, 17 February 2004, The Philippine Star.
↑ Marcos Pleads 5th Amendment : Questioned on Charges He Stole $2 Billion, 1 October 1986, Los Angeles Times.
↑ Remembering IBC-13 as 'The Original No. 1', 8 March 2019, The Manila Times.
↑ 'Eat Bulaga!' dishes out surprising lessons for business, 13 November 2016, Philippine Daily Inquirer.
↑ 17.0 17.1 17.2 "Eat...Bulaga!" and 27 years of making the Pinoys happy!, 20 March 2007, Philippine Entertainment Portal.
↑ Kuwentong Dabarkads (television documentary), 2011, GMA Network.
↑ Francisco, Butch. Eat Bulaga!: Ang Unang Tatlong Dekada (book), 2011, TAPE, Inc. ISBN: 9789719528302.
↑ Joey De Leon visits his home network, 2 February 2019, LionhearTV.
↑ Will his reign continue as MMFF box-office king?, 14 December 2005, The Manila Times.
↑ Sotto tops senatorial survey, 23 September 2015, The Manila Times.
↑ Vic Sotto happy about reunion movie of TVJ: "Mas matindi ang tawanan...", 27 December 2008, Philippine Entertainment Portal.
↑ The best of Senator Vicente 'Tito' Sotto 3rd, 17 October 2015, The Manila Times.
↑ The Three Musketeers of Philippine TV: Juan For All, All For Juan. Tsup, tsup!, 9 October 2011, The Philippine Star.
↑ No more 'Eat Bulaga!' for Tito Sen for now, 21 May 2018, GMA News.
↑ Paolo on Bulaga resuming live, 24 July 2020, The Philippine Star.
↑ Eat Bulaga, 41 years na; magbibigay ng scholarships sa future medical frontliners, 30 July 2020, Philippine Entertainment Portal.
↑ Tito, Vic, & Joey emotional as Eat Bulaga! celebrates 42nd anniversary, 31 July 2021, Philippine Entertainment Portal.
↑ What can a noontime show do to survive?, 8 February 2012, Yahoo! News.
↑ Gabrillo, J. (2018). The New Manila Sound: Music and Mass Culture, 1990s and Beyond [Doctoral thesis], University of Cambridge.
↑ Happy, triumphant faces at the 14th PMPC Star Awards for TV, 8 October 2000, Philippine Entertainment Portal.
↑ Tito, Vic, Joey pararangalan ng Lifetime Award ng FAMAS, 3 September 2015, Pilipino Star Ngayon.
↑ Kuya Germs shrugs off criticisms on Walk of Fame which is now on its fifth year; defends inclusion of Jacky Woo, 3 December 2010, Philippine Entertainment Portal.