"The Manager" is the Holy Tuesday episode of the 2003 edition of the annual drama anthology Eat Bulaga's Lenten Special. It aired on 15 April 2003 with a total runtime of 75 minutes.
Each year, the anthology replaces the noontime show's regular programming in observance of the solemnity of Holy Week. Standalone episodes of short dramas are shown from Holy Monday to Holy Wednesday, with each episode having different characters, story, and director.
It is topbilled by Francis Magalona, Maxene Magalona, and Vic Sotto. Supporting cast includes Ruby Rodriguez, Rochelle Pangilinan, Jose Manalo, and Wally Bayola.
The episode is directed by Jose Rowell Ikamen.




Plot
Charlie (Vic Sotto) is a manager who runs a talent agency for aspirants looking for a successful career in the entertainment industry. One of the agency's most prized talents is Bobby Valdez (Francis Magalona), once a well-known actor who has now been forgotten by the public after struggling with his cigarette and alcohol addiction as well as his narcissism. He and his daughter Abby (Maxene Magalona) still live in the agency's compound. Despite being completely forgotten, Bobby still believes that he is loved by the public because of the misleading efforts of the agency's cook, Tabs (Ruby Rodriguez), who writes differently addressed fan mails to her longtime idol routinely.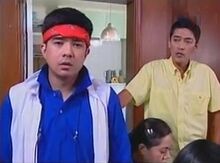 One night, Tabs succumbs to Bobby's request to sneak some alcohol for him during dinner. Abby discovers his father drunk and becomes enraged at Tabs for caving in. Abby orders her to leave the house. Before leaving, Tabs hands Abby a box full of fan mails that she was planning to give to her father. Realizing the cook's devotion and care for her father, Abby changes her mind and stops her from leaving. Tabs promises to work with Abby to take care of her father.
After hearing his daughter and Tabs read one of the fan mails, Bobby becomes eager to resume his acting career once again. Afraid to tell the long-forgotten actor the reality, Abby and Tabs run to Charlie who assures them that Bobby's career is dead. Charlie then confronts Bobby to reveal him the cold hard truth, which the irrelevant actor refuses to accept. To prove them wrong, Bobby shows himself to the public for the first time in a long while, but he is unrecognized and neglected by the crowd.
Unable to accept his career's demise, a drunk Bobby accuses Charlie of destroying his reputation out of revenge for failing to steal Abby's mother who he fell in love with. Abby confronts Charlie and threatens to leave the agency with her father. Tabs criticizes Bobby of twisting the story and presents the truth: Charlie and Abby's mother were the original lovers. Abby apologizes to Charlie for her outburst of emotion and thanks him for his kindness and generosity to them despite her father's betrayal.
Cast
Main cast
Vic Sotto as Charlie Peralta
Francis Magalona as Bobby Valdez
Maxene Magalona as Abby Valdez
Supporting cast
Ruby Rodriguez as Tabs
Jose Manalo as Jose Hibok-Hibok
Wally Bayola as Jay
Rochelle Pangilinan as Rochelle
Also starring
Trivia
"The Manager" was re-aired on Holy Monday, 25 March 2013. All three episodes of the 2013 Holy Week presentation were replays of old Lenten specials.
Full episode
Community content is available under
CC-BY-SA
unless otherwise noted.