Traffic Diva is a singing challenge for the motorists and passengers of non-commercial and commercial vehicles traveling along the busy Aurora Boulevard outside Broadway Centrum. Aicelle Santos, who garnered the nickname "Traffic Diva" after performing in the middle of the street on the former segment Bulaga Pa More!, is the main host of the segment.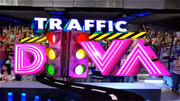 While the vehicles along the boulevard are in motion, Aicelle selects a song and performs it on the side of the road until the traffic light at the intersection turns red. Once the vehicles completely stop, Aicelle randomly enters any of the stopped vehicles and makes the driver or one of its passengers sing the song. The singer must then correctly name the title of the song. Vehicles include jeepneys, taxicabs, trucks, vans, non-commercial vehicles, tricycles, and motorcycles. If the motorist or passenger correctly sang most of the lyrics and name the title of the song, he or she receives a cash prize and a gift pack from the segment's sponsors. There are two to four songs each day.
Community content is available under
CC-BY-SA
unless otherwise noted.